Golf Heritage Society members have met 52 times since the first annual meeting was held in Louisville, Ky. In 1972. We are a traveling group that has since crossed the country to various venues from New Jersey to Florida, Texas, and California. This year marked our fifth visit to Kentucky, our third to Lexington, which bills itself as the "Horse Capital of the World." Some of us, in fact, made time to visit the famous Keeneland Race Course. Others took in a tour of distilleries of which there are not a few in the area, Woodford Reserve and Buffalo Trace high on the list.
This year's events were centered at the Embassy Suites Hotel, a pleasant spot with excellent service, and comfortable two-room suites conducive to the room trading that characterizes these gatherings. And the trading was brisk, golf clubs seeming to be the most popular items, though books and a lot of general miscellanea found new owners.
Here's a brief summary of the event. Click here for a personal account of the convention written by GHS board member and author Taba Dale. We'll also publish a summary with more photos in the Winter edition of The Golf.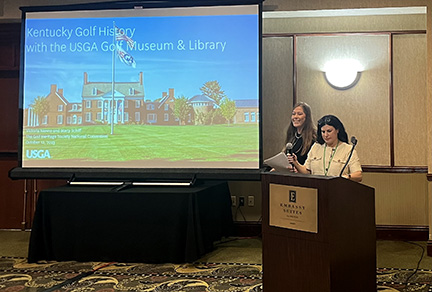 Participants in the 52nd convention took in a delightful presentation from USGA representatives Stacy Schiff, USGA Librarian, and Victoria Nenno, Senior Historian for the USGA, on highlights from Kentucky's golf history. They also provided a hint of things to come at the new World Golf Hall of Fame and USGA Experience, both to open in Pinehurst, N.C. in 2024.
That was followed by a day of golf at the city-owned Picadome Golf Course (par 72) now named for local golf legend Gay Brewer. Hickories, classics or modern steel, it really didn't matter as the afternoon was devoted to the enjoying the game we all love.
After golf, all met at the Lexington Country Club where, after drinks and hors d'oeuvres, we enjoyed presentations from Bob Boring, a friend and former caddie of Gay Brewer; author Beverly Bell whose book on Marion Miley, a Lexington golf star, was a runner-up for the prestigious USGA Herbert Warren Wind Award; and Stuart Bendelow, whose famous grandfather, Tom, designed and built so many golf courses around the country, including the Picadome course so recently enjoyed by the players.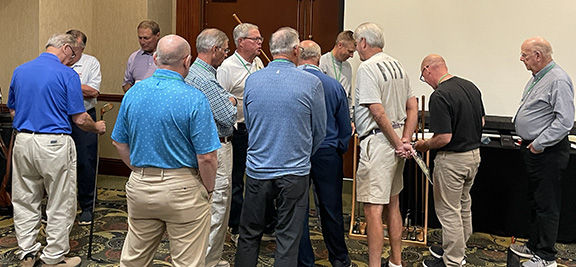 Presentations the next day started off with a brisk talk from the "Bs" – Bobby Grace, Brad Baird, Bob Hansen, and Bob Boring on the history and evolution of the driver – a club we love to hate. Next came club history preservation activists David Moore and John Capers III with a strong presentation on the need for clubs to organize and protect their golfing heritage. After lunch, Curtis Loop, a VP of business operations with Golden Age Auctions, treated us to a rewarding look into the world of evaluating golf cards, golf event tickets and photographs.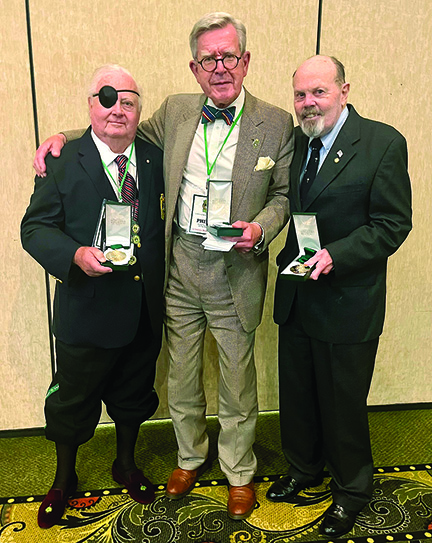 The 2023 celebratory banquet marked in the induction of new Society president, Bill Robertson; the induction of five new GHS Hall of Fame members – John Capers III, John Fischer III, Col. Dick Johns, Mel Lucas Jr., and Philip Truett; the Harris-Wolke Award to Bob Georgiade; and the Society's Golden Quill Award to Beverly Bell for her Winter 2022 article "Promising Futures…Tragic Endings" about the untimely deaths of three of golf's young female stars.
Keynote speaker Bob Boring shared several stories about his friend and former boss, PGA pro Gay Brewer and could have delivered several more had time permitted.
Finally, the weekend's Trade Show was strong as ever with brilliant examples of everything from clubs, balls and books, to the engaging "smalls" such as jewelry, ceramics, statues and whatnot that so fill out our many collections.
GHS national conventions are getting better and better. The organizers are doing their due diligence, taking care of the small details, and ensuring the participants are treated well. The quality of the presentations is brilliant, accommodations are comfortable, and the nearby attractions for guests are numerous and memorable.
The 2024 convention is scheduled for Oct.16-19 in Pinehurst, N.C., where the new World Golf Hall of Fame is opening in association with the USGA Experience, a facility designed to bring golf and golf history to life. This will be one to mark on the calendar. It is already marked on mine.
Click here for a report of the 2022 National Convention.
Click here for a report of the 2021 National Convention. (No meeting held in 2020.)
Click here for a report on the 2019 Annual Meeting.
Click here for a report on the 2018 Annual Meeting.