Information on placing a classified ad, including fees and deadlines, is on the classified ads page of each issue of The Golf. Classifieds ads from The Golf will also appear on this page for no additional fee. Magazine ads are $10 ($20 non-members) for 2023. Ads are 35 words or fewer (that doesn't include your contact info which should include phone and email address). Add a photo for $15. You must include your member number, too.
The GHS retains the right to refuse advertisements it deems in poor taste or purely commercial. These classified ads are for members and friends who wish to share, trade, buy, and sell golf collectibles. GHS members may post classified ads, but all visitors to the site can see them. Items will remain listed for three months. You are welcome to re-post after that time. To post an ad, send the information, complete with your membership number, to editorthegolf@gmail.com.
FOR SALE
Magazines – Met Golfer, first 25 years; USGA Golf Journal, July 1976-March 2003; Philadelphia Golf, Vol. 1-No. 1 to V. 2-No. 2; Sup. to Golf Illinois, five issues; Inside USGA, 11 issues. Jim Oleksa, 919-453-0026.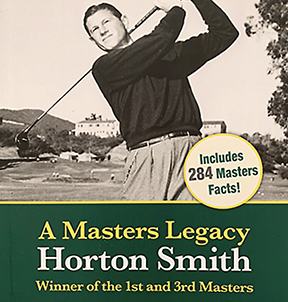 Horton Smith Book – Horton Smith was golf's first "Boy Wonder." The winner of the first and third Masters he possessed a velvet putting stroke. You can study Horton's method and improve your stroke, plus 284 Masters facts.
Order from Rick Grayson, PGA, 7006 Merion, Nixa, MO 65714
Book and postage $25; U.S. only.
Downsizing – Spalding Golf Guide 1891; Glenlivet metal Muirfield container single malt scotch – unopened; 1977 LA Open Glen Campbell Jim Beam bottle – unopened; Parlor Putter; Man on Moon ball, 1971. Pete Schlicht at 262-853-3967; or peterleo1349@gmail.com
Golf Books – 4,453 golf books. Great and complete library. Collection is in Florida and Ohio. Also, 50+ notebooks with first day covers of golf stamps. Price negotiable. Sale is to help Martha Hopkins whose husband, Ken, a long-time GHS member, passed away on April 10. Contact Frank Henry, Member No. 69, 352-683-4807 (landline); or fhandmah@tampabay.rr.com
Golf Books – the focus is on architecture, history, biography, books, and equipment. All are first editions and in VG or better condition. If interested, please contact Alan at KruseArizona1845@gmail.com; or 520-625-8365. Alan Kruse (#02785)
WANTED
Putters – HB & Chicopee stamped A G Spalding, Wright & Ditson or with player's names; Hot Stream; Fernquest sterling silver putters; Fernquest Tony Lema Westerners; Ken Venturi V2; Wizard 600's (not remakes); Sinatra Invitational; Hagen sterling silver; Sarazen 283. Mike Lay text or phone 416-912-1899; or email Michael.Lay@hotmail.ca