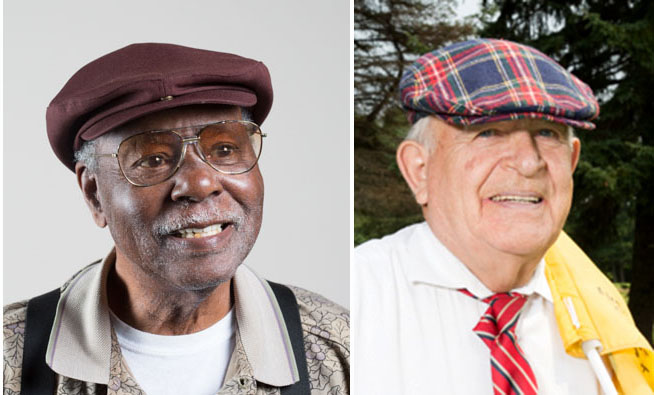 The Harris-Wolke Award was created by the GHS in 2018 to honor the late Richard "Richie" Harris and Eric Wolke, two near-inseparable friends and GHS legends. The award recognizes members for their generosity of time and expertise in the field of club making, repair, and maintenance; and who were instrumental in helping other members further their collections or learn more about the history of clubs or golf heritage in general.
•••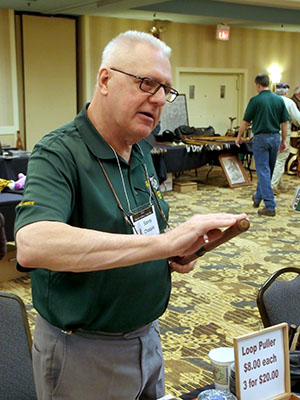 2018 – Sonny Chappie
Sonny Chappie, of Port Huron, Mich., was a unanimous selection to receive the first Harris-Wolke recognition, but his health took a sudden turn and he passed away in August 2018. The award was accepted on his behalf by the GHS President Jim Jeselnick and was given to his widow, Kathie, whom many will recognize as Sonny's ever-present companion at golf trade shows. In the early days of the modern hickory revival, Sonny saw the need for a philosophy of restoration that would preserve collectible clubs and allow them to be played with the modern ball. As the hard new ProV1 began to break our old woods, Sonny developed the "Spring Face" outsert to protect club faces. While these faces were controversial at the outset, Sonny the historian carefully documented the use of these repairs from the historical period and today many of these old clubs are still in play, preserved by Sonny's repair. A fine player and equally fine clubmaker, Sonny will be remembered as one willing to share with and train new players in the art of club making.
---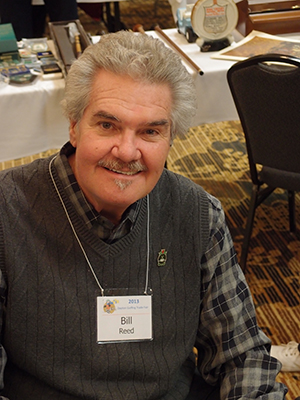 2019 – William "Bill" Reed
Bill Reed, of Des Moines, Iowa, is a force of nature within the Golf Heritage Society. Member No. 4909, he joined the Golf Collectors Society in 1987 after a chance meeting with the late Warren Olsen, a past president (1972) at an antique show. Bill is now a past president himself (2012-13), and a near-constant presence on the Society's board where his opinions are delivered in a no-nonsense fashion.
He has long been associated with golf collecting and hickory golf and his countless miles across the country to trade shows and hickory golf outings, usually in the company of wife and antique expert, Penny, has led to the discovery of any variety of golf-themed memorabilia. While Reed is known by GHS members for his club and ball collection, he has spent – nay, "devoted," he says – much of the past three and half decades to advancing hickory play. He estimates he has personally welcomed some hundreds of players to the sport and whether they thank or curse him for this new addiction is known only to them.
He is a founder of the Hickory Golf Association, based in Des Moines, Iowa. Under his leadership, the HGA has had far reaching influence on many lives, benefitting numerous charities, agronomy and junior golf scholarship programs. The HGA hosts, on average, six to eight charitable events a year.
Reed is also a member of the Society of Hickory Golfers and served on its board for several years. He will tell you that he was a hickory player first and foremost and that golf collecting grew as his natural passion for the game and its history grew.
"Golf is a young man's vice and an old man's penance," he says. "I'm blessed with wife, family, health, and thousands of friends in hickory golf and in collecting the artifacts of the grand auld game."
He is a natural story-teller, the Mark Twain of the GHS. His many anecdotes are delivered in his own hallmark measured cadence. He is always ready to sit down with you, to share a pint or a glass of good single malt and "see what burning issues we might dim."
In 2018, the Nebraska Hickory Golf Association brought him into its Hickory Golf Hall of Fame, along with the aforementioned Mr. Olson. Reed now hosts the hickory golf tournament that Olson founded in 1978, the Heart of America championship, as Bill is quick to remind, the oldest continuously held hickory tournament in the world.
Also in 2018, the SoHG honored Bill with its Mike Brown Award, which recognizes, as with its namesake, respect for the traditions of hickory golf; dedication to growing the game; and a passion for promoting lasting friendships through hickory golf.
"Golf is a way of life," he has said, and he has tried to live by the words – "Honor the Game."
---
2021 – John Capers III
A member of the historic Merion Golf Club since birth, John Capers III grew up under the watchful teaching eye of Fred Austin, son-in-law of world renowned teacher Ernest Jones. He had a competitive family, headed by his mother, 11 times Merion Club Champion. At 21, a plus two and Captain of a Division One golf team, he finally beat her – she played from the middle tees.
A graduate of the University of the South, Capers qualified for the 1966 and 1968 United States Amateur Championships. A business career got in the way of future national competition, but he remained sharp enough to win 18 Merion Championships following the junior with regular, senior and super-senior titles. While living in Chicago he added two Exmoor Country Club championships.
Retired for more than a dozen years from a career in publishing and high-end media, Capers has turned his dedication to chairing the Merion Golf Club's Archives Committee. He has a passion for inspiring other clubs to found their archives/historical committees.
The Club's archives have digitized over two hundred thousand documents, half as many pictures and contains over a thousand other items plus 1,400 books, dating back to the 1860s. With the assistance of the Club's Archives Committee, every clubhouse room has become a showplace to tour and learn the history of Merion.
Click here for a May 2013 article on Capers and the Merion GC archives written by the Philadelphia Inquirer.
Representatives from clubs here and abroad have visited Merion to learn from Capers' example and investigate how their history can be preserved. "We call it part of the 'Merion experience'" Capers says. "Merion is fortunate to be a part of golf's history and the membership enjoys sharing the course's and the clubhouse's treasures with the world."
He has been published in local, regional and national magazines plus participated in research for a number of books including two USGA Herbert Warren Wind Award winners. His broadcast credits include CNN, CNN International, Golf Channel, SKY-TV, KYW/Philadelphia. Lou Tilly Out of Bounds, Sports Talk Austin Texas and Chicago Sports. Currently a member of the USGA's Museum Committee he continues to speak all over the country encouraging clubs with a presentation titled, "If You Don't Start Collecting Yesterday Today, There Will be No Tomorrow."
Click here to hear an interview with John Capers on the PlusFour podcast with host Rob Birman.
Capers joined the Golf Collectors Society at the invitation of founders Joe Murdoch and Bob Kuntz. He is proud of his 00003 membership number and has served the Society with distinction for more than 50 years, both as president, board member and watchdog on the Society's finances and expenditures.
The Society is proud to recognize John Capers III with its 2021 Harris-Wolke Award for his inspiring role in helping other members, golf clubs, and club historians further their collections and better appreciate their clubs' histories and golf heritage in general.
---
2022 – George Petro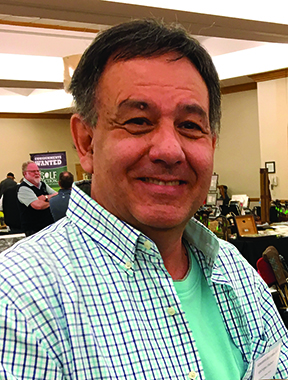 George Petro might have become a geologist had not his parents talked him into attending medical school. He started collecting minerals and crystals at seven years old and later, antique medical instruments. In 1992 he met a GCS member at a Syracuse antique show and it wasn't long before golf collectibles fired his collecting imagination. He attended trade shows, bought books on golf collecting, and found out, serendipitously, that serious book collector, Dick Donovan, lived only blocks away. A visit to collector Wayne Aaron's proved an unforgettable experience. In 1993, he visited the Dayton golf collector show, where he fell in love with a 1955 U.S. Open medal, won it at a Kevin McGrath auction and took the first steps to a medal collection that is perhaps the world's finest private collection. It's not uncommon for private clubs to solicit George for photographs of particular medals for their club history books. Rare trophies, too, are part of his unique collection, all won by careful auction research, selling and buying. Today, he says he'll go to the mat for certain medals but still works hard on a small but representative collection of clubs, balls, books, and ladies' items that portray a general story of golf. His service to the GHS has included several years as a board member and Region 1 Director. He is now chair of the Society's communications committee. Now a retired neurosurgeon, George has more time to work on his own collecting interests. At the same time he is known for assisting others in acquiring or locating specific items he knows are on their lists. He is generous with his time, his knowledge, and is the author of the quarterly auction reports in The Golf, no small task to track several auctions and report on their rare items as well as provide a general sense of market trends. He is also a frequent contributor of articles on a variety of golf history, provides edited videos of GHS Zoom presentations for posting to the website, and is a valued and trusted member of the greater golf collecting community. Click here to view a PDF profile of George and his collection from the March 2016 Bulletin.
---
2023 – Bob Georgiade
Bob Georgiade, of Durham, N.C., is a long-time GHS member (No. 4405) who has been collecting golf clubs for 40 years. He is a familiar face at national conventions and trade shows, sometimes as a presenter on how to assess a club. He has a singular memory for cleek marks, manufacturer names, patent clubs, hickory or classic, knows how to evaluate clubs, knows what's playable or not, knows how to counsel a collector looking to either start from scratch or to disburse a collection. Over the years he has dispensed with advice and learning along these lines to innumberable individuals of all ages, incomes and degrees of collecting knowledge. "Well, you must call Bob Georgiade," is often heard when questions of golf club values are broached. A veteran of eBay, Bob spends many hours each week selling clubs, sometimes buying, and often helps dispose of collections for those with no other means of doing so. He has assisted countless individuals who wish to find just that one club to fill out a collection or play set. He has also disappointed many who think they have a priceless gem, only to learn they have a common player. Better to know, right?  He may be gruff, but he is generous, happy to help and without equal when it comes to matters of golf club collecting.