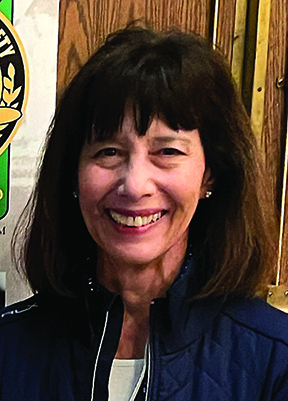 Author and GHS board member Taba Dale shares her experience of the 2023 GHS National Convention.
The Golf Heritage Society National Convention started early for me since I was a guest on Danielle Tucker's " The Golf Club Radio Show" sharing my excitement about the upcoming convention in Lexington, Ky., Oct. 11-14, 2023.
The first order of business for me was the Board Meeting held on Oct. 11. We elected a new slate of officers, which includes our new Society president, Bill Robertson, and voted on a new dues structure and new membership levels. All critical items.

The rest of my day was filled with fun and meaningful connections: lunch with Beverly Bell, who was with me in St Andrews last July, and she was a speaker at Lexington Country Club; a long walk with a new GHS member, Brent Johnson, who took a fabulous trip to Scotland that Kevin and I curated for him; and then dinner with dear friend, Wayne Aaron.

What a special day. All about connection with golf-loving people who come together at the GHS National Convention each year to create new friendships and celebrate old ones.

On Oct. 12, United States Golf Association representatives Stacy Schiff and Victoria Nenno enlightened us about how the oldest sports museum in the world was founded in 1936. We learned more about its holdings now on display in the Mickey Wright Room at Liberty Corner, the USGA's headquarters in Far Hills, N.J. Mickey Wright was a four-time U.S. Womens Open Champion. We were updated on the plans for the USGA satellite museum that will open in Pinehurst, N.C., ahead of the U.S. Open Championship scheduled for June 10-16, 2024.

The GHS has also scheduled its 2024 National Convention for Pinehurst, Oct. 16-19, so we are already focused on that event. With the World Golf Hall of Fame returning to Pinehurst, 2024 is shaping up to be a very big year in the golf world. Pinehurst is often called the "American Home of Golf."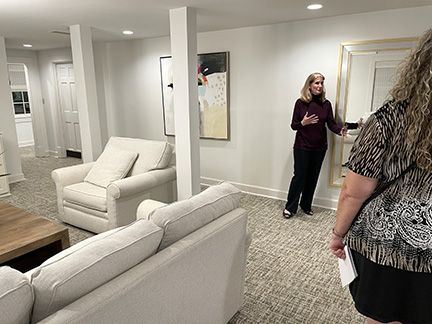 Our evening at Lexington Country Club was exceptional. GHS Director, Region 5, James Kaiser, who lives in Louisville, Ky., took the lead on this event. James is a big asset to GHS on many levels. His devotion to the history and evolution of the game has led him to play pre-1900 hickory golf (gutty golf) exclusively. James introduced Beverly Bell, who is the author of The Murder of Marion Miley. Marion, a superstar amateur golfer, and her mother, lived in an apartment upstairs at Lexington Country Club, when they were both killed during a botched robbery in 1941. Beverly tells the story as if she witnessed it in person. This was front page news in the U.S. and around the world. The outbreak of World War II overshadowed Marion's story.
Another speaker was Bob Boring, a club maker and caddie for Gay Brewer for many years. Brewer was born in Lexington and won the 1967 Masters. We were regaled with many hilarious stories and treated to seeing some of Brewer's prized golfing possessions. Boring was also to be the keynote speaker at the Friday evening banquet, where I'm sure he would be delivering a very engaging speech and many more anecdotes about Gay Brewer, Lexington's native son. I would not be there as I had to leave the convention earlier.

The final speaker at Lexington was Stuart Bendelow, whose grandfather, Tom Bendelow, born in Aberdeen, Scotland, became known as the "Johnny Appleseed of American Golf." He designed hundreds of golf courses including the original three courses at Medinah.
The last session that I could attend, on Friday morning, was a presentation on the history of the driver, chaired by Bobby Grace. Bobby took up golf at a very young age, and was a champion junior golfer who competed in the U.S. and British Amateur. He developed an eye for rare clubs and over time his personal collection evolved into the creation of a very robust business, making and selling clubs to a clientele that included many Tour Pros. To augment Bobby's presentation, Brad Baird, Bob Hansen and Bob Boring took turns showing many rare clubs, speaking about their makers and their histories. It just doesn't get any better than to be in the audience to absorb this kind of direct learning about golf heritage from these historians and experts. Truly one of the best benefits to being a member of the GHS.

Unfortunately, I had to fly back to Scottsdale before the Gala Dinner and formal passing of the baton from president Dr. Bern Bernacki to Bill Robertson. There was also a ceremony to induct five members into the GHS Hall of Fame. They are: John Capers III, Philip Truett, Col. Dick Johns, John Fischer III and Mel Lucas.

The GHS Convention always concludes with the Trade Show on the Saturday that is open to the public.

What I didn't do but wish I could have: I did not see Keeneland, known for thoroughbred racing and breeding. I did not have time for a Horse Country tour or bourbon tour/tasting. It's really strong stuff…and I'm more of a wine drinker!

Something else I would have enjoyed seeing would be the Mary Todd Lincoln House, the childhood home of President Abraham Lincoln's wife. But I'm so glad I got to mix, mingle and learn from the many golf enthusiasts who love to play the game and share their knowledge.

I can't wait for Pinehurst… and I won't be leaving early!