There are two reasons to collect memorabilia from a tournament – either you attended a specific event or you are focusing on a tournament. Attending a tournament provides many possibilities for a dedicated collector. There is the practical approach of the visit itself which could include purchase of a hat (possibly a Sharpie if you intend to collect autographs), a chair, and covered tumbler to keep your drink from spilling. All of these are practical and necessary for a fun day. They also have the year's logo for your collection. Of course you can add sunscreen or purchase an umbrella as needed. Don't bring your own umbrella, the tournament/golf club logo is way cooler at home. A program, tournament badge, logo pin (put it on the hat, that's cool), logo balls and all the other stuff in the souvenir shop are nice, but cumbersome to carry. Buy them on the way out, if you are not attending on Sunday.
Your ticket is a great reminder of the day. A season pass, or seven daily tickets can make a nice display in your golf area at home. Have those who attended with you sign your ticket – all on the same side. Also favored by collectors are pin flags, especially if you can get them autographed. There is a large market for Masters flags in particular. The first time you attend is the beginning of your golf collection and your participation in the history of the event. Join the Golf Heritage Society and meet others who have attended the tournament. They might know a better place to sit!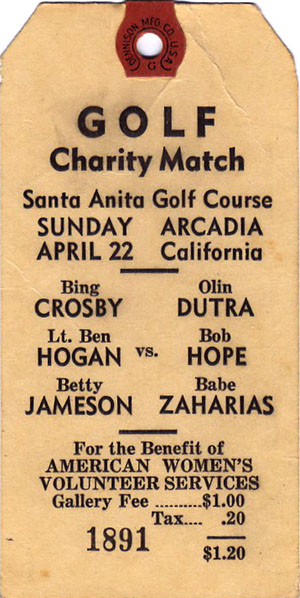 As for building your tournament collection, there are, again, many possibilities. How about the tournament in your home town, or a tournament with a historic past that interests you. Identify the kinds of items from this tournament that interest you. The obvious list is the same as if you attended the event.
How do you get started? First make a list of the items that pique your interest. You can do this on a piece of paper or maybe an Excel or similar spread sheet program. List the tournament years vertically and the items horizontally. If you are fortunate enough to attend the tournament, that is the starting point. EBay is a great place to start your search for the past. There are many ways to search, by event, by event-year, by event-year-item, etc.; the options are as many as the items that will be offered. Don't jump at the first offer. Always explore the opportunities to see what's out there and improve your collection.
One of the best ways to do that is with a Golf Heritage Society membership. Here you can communicate with the other 1,000+ members to get their ideas and trade with them. Check auction websites, too. You'll find a list of common golf auction houses on the Resources page of this website. Browse current, and past, auctions to see what is up for sale or what has been sold, and the price, at past auctions. This will provide a good indication of what's hot, and not, and current market values.
Now you are a collector of history, your specific history with items from a tournament you love. Need help? Contact the local pro at the tournament site or any GHS (Golf Heritage Society) member.