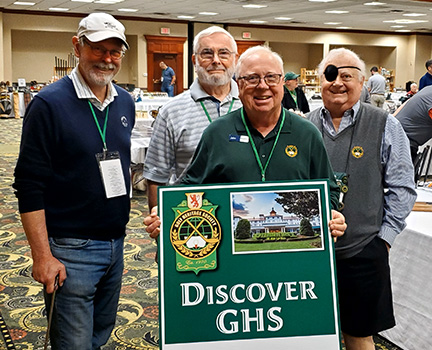 The 52nd annual GHS National Convention just wrapped up in Lexington, Ky. From the very first presentation with our USGA friends to much more from club and collecting experts, authors and former PGA caddies, the convention did not disappoint. The special presentation at the Lexington Country Club was a rare treat, too. If you were there, you know what we're talking about. If you couldn't make it, look on the GHS National Convention page for a summary of the event. We'll have more in the upcoming winter edition of The Golf. Meanwhile, we're already looking forward to October 2024 for the next big powwow in Pinehurst, N.C.
---
NEWS ALERTS
Congratulations to Kirk Watson, the 2023 GHS National golf champion, who won the men's hickory division at the Gay Brewer Picadome Golf Course in Lexington.
MULLIGAN! In the current edition, Autumn 2023, of The Golf there is an error in the price of a book mentioned in Reading the Greens. The Golf Courses of Seth Raynor, published by www.back9press, is $89.99 and NOT $35 as reported.
Distance and golf equipment, particularly golf balls were discussed more than once at the Open Championship. "Something must be done," cry the golfing traditionalists. In a recent post, historian Pete Trenham reminds us that this topic has been stewing for more than 100 years. Click here for his look into this ever-current topic.
Always new podcasts and interviews with GHS VIPs on the Media page of this website. George Petro and British golf historian Dr. Blyth Bell, on Royal Liverpool Golf Club, host to this year's Open Championship. Recorded July 10 on The Golf Show 2.0. Click here for the latest.
---
ghs classics from the Archives
The GHS quarterly journal, The Golf, and its long-lived predecessor, The Bulletin, had features that were – are – just plain fun to read. Below we are pleased to offer a "classic" from the past, a look at the collection of one of the Society's long-time members.
the golf collection of tom Reinhardt
From the March 2015 edition of The Bulletin we share a feature on the collection of Tom Steinhardt, a Baltimore resident who is a long-time member of the GHS. Steinhardt has assembled a remarkable collection of memorabilia, photos, autographs, and letters from such golfers as Ben Hogan, Bobby Jones, John McDermott, and Babe Zaharias. He finds the history fascinating, brought to life by these personal glimpses into the legendary golfers. This feature gives us a little peek at Tom's amazing collection. As we share these collection profiles, keep in mind that golf collecting is a fluid hobby and that collections change over the years as items are bought, sold and change hands. The collection you see here is a snapshot in time from March 2015.
Click here to read the article.
---
News / Features