The PGA championship will be played this week at TPC Harding Park in San Francisco, Calif. The venue, named for our 29th president, Warren G. Harding, is the fifth municipal golf course to host the PGA Championship. It has been hosted on several public courses, among them Pinehurst No. 2, Pebble Beach, and the Straits Course at Whistling Straits. The other four munis are Tangelwood GC at Clemmons, N.C.; the Keller GC, Maplewood, Minn.; Bethpage Black, Farmingdale, N.Y.; and Belmont GC, Richmond, Va.
Click here to see some great stories and photos about Harding Park from a San Francisco Chronicle web post.
Here's another good post for great background on the PGA Championship. Click here to see PGA Championship 101 – Guide to this Year's Major, a story on the Golf Digest website.
The PGA was founded in February 1916 and its first championship was held later that year, in October. The winner of the inaugural event, held at Siwanoy Country Club in Bronxville, N.Y., was Jim Barnes. It was played in a match play format (until 1958). Barnes bested Jock Hutchison 1-up and won $500 and a diamond-studded golf medal in the process. Nicknamed "Long Jim," Barnes successfully defended his title. No championship was held in either of the next two years because of World War I but when it resumed in 1919, Barnes came out on top again, beating Fred McLeod at the Engineers Country Club in Roslyn Harbor, N.Y.
Barnes finished second to Walter Hagen in the PGA championship twice, in 1921 and in 1924. Hagen won the event five times, a record he shares with Jack Nicklaus.
Barnes added two other major championships to his legacy — the 1921 U.S. Open at Columbia Country Club in Chevy Chase, Md., and the Open Championship in 1925, the last time it was held at Prestwick. He was inducted into the World Golf Hall of Fame in 1989. http://www.worldgolfhalloffame.org/jim-barnes/
Warren Harding and Jim Barnes will be forever linked in another moment in American golf history. When Barnes won the '21 Open at Columbia, Harding was on hand to award him the championship trophy. It's the only time in the history of the event that a sitting President has done so.
---
pga's first professional championship tournament was in 1916 at van cortlandt park in new york
Some golf historians, and especially fans of the country's earliest municipal golf course, Van Cortlandt Park, wonder whether a PGA event held at the course just a couple months before the Championship at Siwanoy CC in Bronxville, should be considered the first true national PGA Championship. The following article, submitted to the GHS by golf researcher Greg Gaul, explains this line of thought.
Van Cortlandt. Who knew this forgotten layout tucked away in the clustered Bronx neighborhood of bustling New York City held so many secret honors? America's oldest public golf course opened in 1895 holds many other "firsts" tying it to United States golf heritage. It was named for Stephanus VanCortlandt, the first native-born mayor of New York City, a descendant of a prominent family who owned the nearly 1,200 acres of VanCortland Park going back to the 1600s.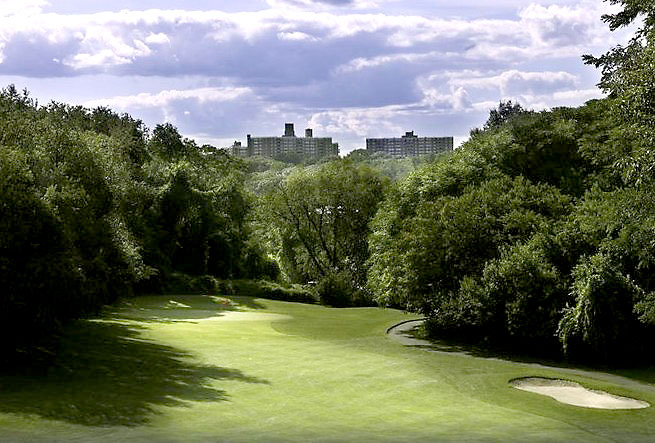 The course itself nestled within the park is sliced by highways, waterways and bridges yet it maintains a bucolic parkland quality amidst the metropolis. Rolling land for the first two thirds and steep hills for the remainder, it's shortish yet quite sporty. The city's largest fresh water lake is located on the property. It boasts that it's the most easy access from center city of any of the four other city-owned courses. It's not unusual to see enthusiastic linksters traveling to their games on public transportation with clubs in hand. When my wife and I played there, we were paired with two young New Yorkers, one who had taken the subway to the course with his clubs. It was a resplendent summer day that showed off this delightful layout beautifully. Originally designed by Scottish-born Tom Bendelow, in 2009 New Jersey architect Stephen Kay along with Doug Smith gave it a classy update. Par 70, it stretches to just a touch over 6,000 yards. However, it does have a 615-yard five par and a 220-yard three par, so there are challenges. In a very early iteration, so they say, there was a 700-yard hole. If so, it's long gone now.

The "Vanny" as it has been nick-named, also hosted the first United States Public Golf Tournament in 1896. The first ever professional golf tournament played on a public links golf course in the United States was contested there on July 13, 1905. Issac Mackie won it with notable Willie Anderson and Bernard Nicholls tying for second.

On July 20, 1916, "Long Jim" Barnes (who played out of Whitemarsh Valley CC near Philadelphia) won the the first PGA Championship (tournament) at VanCortlandt Park, a medal play event, with a score of 276 over 72 holes. Later, on Oct. 10-14, 1916, Barnes competed evidently again in the first PGA Championship (the flagship event later to become a "Major") at Siwanoy CC in nearby Bronxville, N.Y., defeating Jock Hutchinson in the finals of match play one-up to take the newly donated Rodman Wanamaker Trophy.

The amazing twist is that Barnes evidently won both events on different venues within a few weeks of each other. Due to the coincidences, closeness and timing, the VanCortlandt tourney does not show up in golf histories although a haunting photo of Barnes with a clear inscription of the event name, date and medal score hangs in the clubhouse today. A mistake? Another first? Who knows?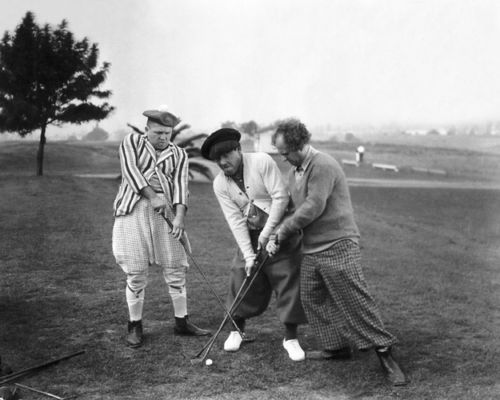 Many recognizable golf names from the past have played VanCortlandt. As with most "munis," the walls of the clubhouse are adorned with pictures of personalities and celebs who have golfed there. Included are Harry Vardon, Babe Ruth, Willie Mays, Jackie Robinson, Joe Louis and even The Three Stooges who reveled in performing their hijinks on the fabled course. Largely unnoticed for its place in United States golf history, overshadowed by its host city, nothing can take away its interesting past of "Firsts." It remains today doubtless a constant source of pleasure and recreation for all who know it and for those who take the time to look back and muse the beginnings of this great game.
---
Your GHS editor checked with PGA historian and author Billy Detlaff (Doctors of the Game – A History of the Golf Profession, 2016) for some enlightenment on the subject of the two PGA tournaments.
Writes Detlaff:
"The Van Cortlandt Park event was indeed the first championship to be conducted by the PGA. It was a medal (stroke) play event. It was not ever intended to be the first PGA Championship. That event was proposed by and trophy funded by the founding of the PGA of America through Rodman Wanamaker. It was an actual outgrowth of the organizational meeting where both the association and National Championship were proposed at the January 1916 event. So both statements can be true. The first true national championship of the PGA of America was indeed the Match Play Championship where the Wanamaker trophy was presented. From the inaugural PGA Championship until 1958 all were played at match play. Things changed with the need for television coverage."
So, while Van Cortlandt hosted the first PGA championship golf tournament, it was not the first PGA Championship itself. That national championship, apparently, had already been in the planning stages by the time the event at Van Cortlandt took place.
By the way, that 276 Barnes shot at Van Cortlandt was a world record at the time for 72 holes of medal play. That was two under the existing mark set by Macdonald Smith at the Metropolitan Open in 1914.
Not a bad stretch for Mr. Barnes.