The winner of the 2022 British Golf Collectors Society Murdoch Medal was announced at The Open in St Andrews. BGCS Captain Bob Chadwick said, "I am delighted to announce that Swing Time: A Celebration of Golf and Music, 1870 to 1939 by Rand Jerris and Peter Lewis has won this year's Murdoch Medal. The book that celebrates the popularity of the game and how it featured in popular music, theatre and film of that era, is a sublime publication and beautifully produced."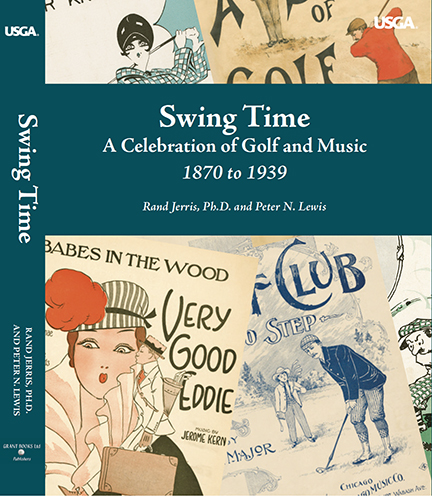 "We are delighted that Swing Time has won the Murdoch Medal," Peter Lewis said. "Rand and I share a passion for songs and sheet music with golf themes, whether stand-alone ones or those from stage and film musicals. Our aim with Swing Time was to try to give a new, entertaining perspective on the history of the game. To win the BGCS' most prestigious medal is a great honor and we are overjoyed by this wonderful news."
Rand Jerris added, "Over a hundred years ago, a remarkable community of composers, lyricists, musicians, artists and publishers came together to create extraordinary songs and sheet music that expressed a passion for golf. It is a profound and humbling honor to receive such an important recognition from the British Golf Collectors Society. We're particularly pleased that this award will help shine a brighter light on the creative genius of the musical and visual artists who made Swing Time possible."
Jerris, a former senior staffer at the USGA, has formed a consulting business to help clubs archive and document their histories and tell their stories.
The Murdoch Medal, named in honor of former BGCS Honorary Member and GHS Founder Joe Murdoch, is made to a member of the BGCS in recognition of a 'contribution to the heritage of golf' and is usually, though not exclusively, given for what the Committee regard as the outstanding publication on the history of golf in the previous year. Originality and substance are important considerations, but other, more general, contributions to golfing heritage are often taken into consideration. The winning medal is struck individually in sterling silver by Alexander Kirkwood and Sons, Scotland's last remaining medallists.
For information about the Murdoch Medal contact Bob Chadwick – bobchad14@gmail.com
The British Golf Collectors Society was founded in 1987 with the aim of promoting interest in the history and traditions of golf, and collecting items associated with that history. Current membership is in excess of 750 based in all regions of Great Britain and abroad, particularly Continental Europe and the United States.