When important pieces from a GHS member's collection come to auction, it's worth noting. So it is that members who have an interest in golf art, particularly original illustrations, might wish to note the Jan. 28, 2021, Swann Galleries auction that includes 63 pieces from the collection of Richard McDonough.
McDonough is a retired attorney who has amassed an extraordinary collection of original illustrations, early Dutch art with kolf themes, and much more. The Swann auction contains original works from such early illustrators and cartoonists as J.C. Lyendecker, Lealand Gustavson, Arthur Frost, John B. Held, James Montgomery Flagg, Clare Briggs, and Charles Saxon.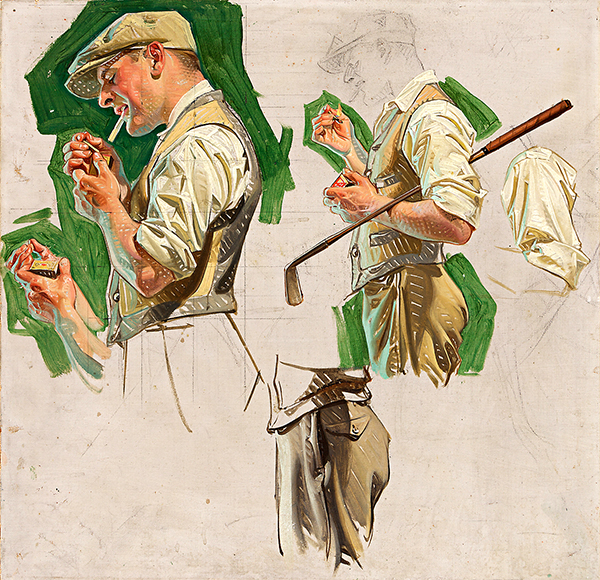 One of the pieces, shown above, is a study of a golfer lighting a cigarette by J.C. Leyendecker, a German-American illustrator of the early 20th century, best known for his poster, book and advertising illustrations. He may be most famous for his trade character known as "The Arrow Collar Man," and numerous covers for The Saturday Evening Post. Between 1896 and 1950, Leyendecker painted more than 400 magazine covers, some 322 for The Post alone, as well as many advertisement illustrations for its interior pages.
Not until the arrival of Norman Rockwell was an artist so solidly identified with one publication. Leyendecker "virtually invented the whole idea of modern magazine design," wrote Alex Chun for a 2007 review in the L.A. Times.
Click here to visit the Swann Auction Galleries page. McDonough's lot numbers range from 217-280.
McDonough, a long-time GHS member and former board member, is co-author of the 2013 book Great Golf Collections of the World.