March 11, 2021
Austin, Texas
Pete League, GHS member and former board member, and organizer of the Onion Creek Hickory Classic, reports that a generous supporter of hickory golf and the OCHC has donated a new set of Louisville Golf Precision model hickory shaft irons (mid-iron through niblick, a $1050 retail value), to be raffled off, with all proceeds to be turned over to Mobile Loaves & Fishes, the OCHC official charity.  See WWW.ML&F.ORG  Repeat:  these are new, never used; they came right from Louisville Golf. This is a marvelous way for supporters and players at the OCHC to support the official charity. Contact Pete League for information on the raffle.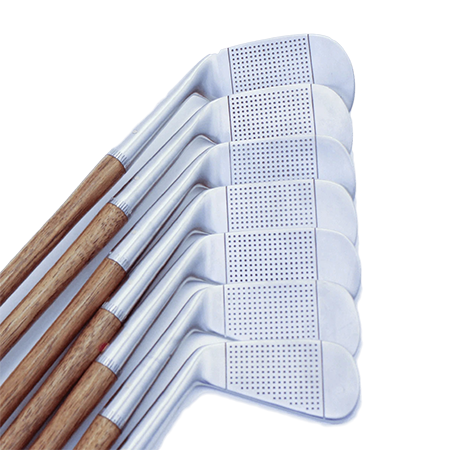 In addition, another donor sent a brand new Louisville Golf version of the Bobby Jones Calamity Jane putter (a $175 retail value). So, what we have is the eight-club set ($1,050) plus the Calamity Jane putter ($175) for a total retail value of $1,225.
Pete League
Tournament Director
Onion Creek Hickory Classic
512-694-9904
league1967@gmail.com
NON-PROFIT
The Hickory Golf Association of Texas is a 501(C)3 non-profit organization, as is Mobile Loaves & Fishes. Raffle tickets are not tax-deductible, but other contributions are tax-deductible.
DRAWING
The drawing will take place after the 2021 Masters Champion is declared on April 11, 2021 (or later if there is a weather delay).
THE END RESULT
Past auctions, raffles and other individual contributions associated with the Onion Creek Hickory Classic played a large role in ML&F's recent purchase of a mobile home at Austin's Community First Village. It now serves as the home of a formerly homeless couple. Community First Village has over 200 residents already and, when at full capacity, will house almost 600 persons, all living with a huge dose of dignity. Now, THAT'S an effective way to attack the homeless situation!