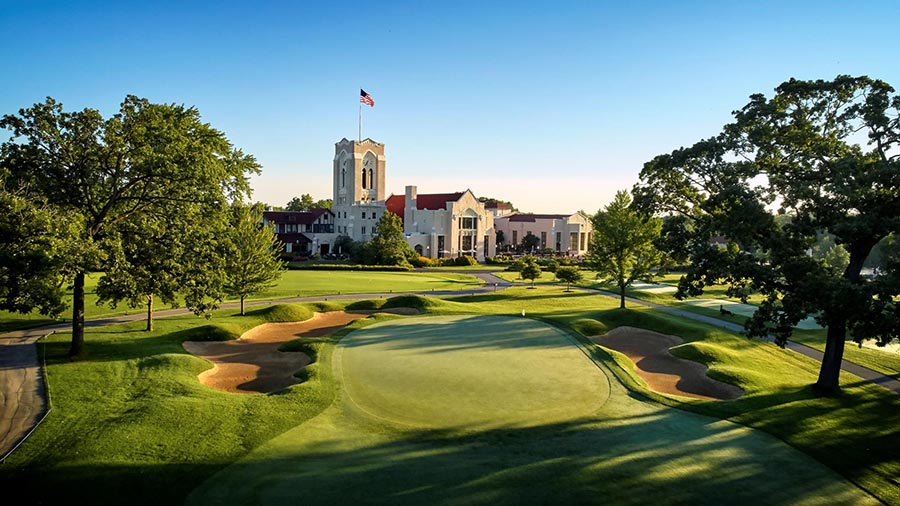 John McIntosh (member No. 8205, Glendale, Ariz.) is the grandson of early golf professional David B. McIntosh, who worked at Kent Country Club in Grand Rapids, Mich.; Westward Ho! in Galewood, Ill.; and Oak Park in Oak Park, Ill. This was during the closing days of the 19th century and the early part of the 20th. John, who loves collecting old hickory clubs with his Grandpa Mac's cleek marks, is working on a narrative of his forebear's golf career. Meanwhile, he shares this memory of visiting Olympia Fields with his father, David, and his friends.
By John McIntosh
This past weekend (August 2020, BMW Championship), I spent a lot of time watching golf at Olympia Fields Country Club. Our family's daily fee course, Oak Hills, where I was born and raised, was about 15 miles from Olympia and one of my Dad's (golf professional David McIntosh) best friends joined Olympia in the 1950s so I have lots of rounds logged there and so many great memories.  Our three sons have been after me to start chronicling some of my recollections/stories and, of course, golfing with my Dad are some of my fondest of all.  So I thought I'd share some of my Olympia Fields' recollections I sent to our boys. Mrs. Mac says I have stories about stories, one story leads to another and yet another.  
Many believe (including me) the South course at Olympia was always more picturesque and more fun to play than the North, and every bit as difficult, before the recent upgrades and lengthening of the North. The North had TV cables laid for the 1961 PGA so, back in the day, the TV events were always held on the North. A caveat: It's been almost 50 years since I last played the charming old girl and I'm sure there have been many changes.
Excerpts of my Olympia Fields' recollections to our sons:  
I remember the first time I went to Olympia Fields to play golf with (your) Grandpa Jock and Mr. Coop. his was back in the 1960s. We were guests of Glen Cooper who had joined Olympia in the 1950s. I'd been there with Mom and Dad to watch the 1961 PGA but other than the crowds, that's about all I can remember from 1961. I attached two photos I took off this year's TV coverage. It's the famous clock tower, their landmark, trademark, and signature. I remember you could see it long before you reached the entrance, very impressive.
The next thing I remember was the men's locker room. It was MASSIVE! I've always said the Olympia Fields locker room was almost as big as the entire Palmbrook clubhouse, which is probably over reach but not by much. The next thing I remember is the shoe shine room. The shoe shine room at Oak Hills was about the size of our master bedroom closet and had one shining machine. The Olympia shoe shine room had at least half a dozen stations, each with its own shining/buffing machine. It was like Santa's workshop in there. Machines seemed like they were humming along constantly. The shoe shine guys all wore white pants and white smock tops, some wore dark green aprons. During my first visit to play there, I changed into my golf shoes and started to put my street shoes into Mr. Coop's locker when he said "Just leave your shoes in front of my locker. One of the guys will come by, grab them and have them shined. They'll be sitting on top of my locker when we get in."    
At that time, there was no air conditioning in the locker room, just giant fans constantly, slowly blowing and the old giant windows were cracked open. Older members walked around in their underwear (or less,) some holding a cocktail (this was at 10:30 or 11 in the morning.) The lockers were old, short, (maybe 5 feet tall), stubby with wider metal doors than our narrow, modern lockers. And there were hundreds of them because when the club was first built (around 1915) it had four golf courses. Sadly (during WWII, I believe), they had to sell off the land for two of the courses. Each aisle of lockers had its own name on the wall by the windows. Mr. Coop's aisle was called "Champs and Chumps." I never did ask him if he picked that aisle or if it was assigned. Next to the shoe shine room was the barbershop. Yep, the club had its own full time barber on duty. Barber's pole turning, real barber's chair, the whole nine yards!. I'd never seen anything like a barber shop at a golf course.
There were rooms upstairs where one could spend the night. There were also cottages for purchase. Another good friend of Dad's was John "Bud" Oedzes and he bought one of the cottages (for around $150,000 if memory serves me, pretty pricey at that time). The Oedzes family owned Brown Packing, the largest veal packing house in the Midwest. I remember Bud telling Dad that United Airlines was their largest customer for veal. (This was back in the day when flying first-class meant you were really going first-class.) Bud would go into his office around 9-9:30 a.m. to pick up his mail and usually by 10:30 a.m., he was sitting in the clubhouse at Oak Hills having a Canadian Club and water. You could set your watch by him. Then he was off to Olympia for lunch and maybe golf, or maybe gin rummy. He always said he bought a cottage for two reasons: 1) when he became "over served" at the club, he didn't have to worry about driving home and, 2) when he and his wife had a row or "lover's quarrel," he'd simply go to the club for a few days. On one occasion, Big Bud, as we called him, had been at Olympia most of the day when his wife phoned and asked if he was still there. He refused the call, had a night cap or three and retired to his cottage for the night only to find his wife waiting for him. (And I don't believe she was there for a tryst.)
Of course there was a men's grill room as well. I remember the entrance was through the men's locker room although by the time I was in high school there was an outside entrance. Sometimes, depending on our tee time, we'd have lunch in the grill room and it was outstanding. If we didn't eat lunch in the grill room, (or even if we did) we'd feast on Marhoefer hot dogs at the turn. John Marhoefer was a longtime Olympia member, so it was only natural for the club to use his dogs. Marhoefer hot dogs were huge, even larger than today's oversized variety. The club also had real milkshakes at the turn, just about any flavor you could imagine. Every round, as we were headed toward No. 9 tee, Mr. Coop would ask if we were "ready for a Marhoefer and chocolate shake?" Whatever our answer, Mr. Coop would pick up the phone next to the ball washer on No. 9 tee and order for the group. Mr Coop was 6-foot-4 and maybe 280-300 pounds, so even if we'd had lunch in the grill room, we knew we'd have a Marhoefer and shake at the turn, because he couldn't continue without them.
My favorite time of year to play Olympia was fall, especially the South course, because the leaves were changing and the South meandered through a forest, mostly oaks, where leaves were changing and acorns were falling. The only downside was losing a ball in the leaves, but the landscapes were like an out-of-body experience so it really didn't matter if it took a few extra minutes of searching.
I have a ton of other great memories from Olympia, Midlothian, Flossmoor, Ravisloe, Exmoor and, I almost forgot, Beverly CC, just to name a few. It's funny because when I was young I didn't really understand the gravity and history of these great old clubs. But I sure do now.