by rob ferguson
As an Annual Benefactor of the Golf Heritage Society, I credit Ambassador John Rusbosin for the opportunity to share my experience in collecting and creating a vast Golf Card collection. I have been a longtime trading card collector and was a former sports card shop owner during the card collecting frenzy of the 1980s. It was then that my interest in golf cards ignited once I was exposed to the iconic caricatures of the 1931 W.A. & A.C. Churchman Prominent Golfers set. During that sports card craze period of the 80s, little was available leading up to the 1993 Berdock & Baier publication A Century of Golf Cards. Nary a golf card price guide, nor much on the worldwide web, or on-line stores or auctions… it was challenging to assemble a collection. As Paul Harvey stated so well, "Now the rest of the story…". It was over 40 years ago that I stumbled upon a memorabilia dealer at a regional golf merchandise show. I asked if he had any golf cards for sale and he replied, "I have several old binders of cigarette golf cards that no one ever looks at." Thus began my quest to create a one-of-a-kind golf card collection that was exhibited, for the first time, at the 2021 GHS National Convention in Pittsburgh.
Golf Card Collecting can be pleasurable, educational, and profitable all rolled into one. Begin by selecting your favorite cards of choice; be it vintage Linksters such as Bobby Jones, Walter Hagen, Gene Sarazen or Modern Era stars like Jack Nicklaus, Arnold Palmer orTiger Woods; then do the research next to educate yourself on the history, production and market price of golf cards along with their availability. To protect your collection from reprints on the market consider purchasing professionally graded cards that have been authenticated and aid in value determination for buying, selling, and investing. Many professional grading companies exist with Professional Sports Authenicators (PSA) leading the industry as the benchmark grading system. Establishing a budget prior to collecting is essential and can be accomplished by creating a median scale of graded cards for purchase using current price guides. There is a definite verity in value due to the grade/condition and the market demand.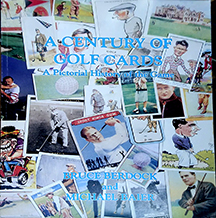 Browse the various authentication/grading/collecting sites on the internet to learn what the market is doing. A great read on the topic is A Century of Golf Cards by Berdock & Baier, 1993. Visit sports card auction sites to view current bids and past auction results. EBay and PWCC (Pre-War Card Collector Auctions) are two of the most trusted marketplaces for buying, selling, and analyzing the golf card market.
Setting your sights on the trading cards of golfing greats such as The 1933 Goudey Sport Kings #38 Bobby Jones and the 1981 Donruss #13 Jack Nicklaus are two fabulous offerings to commence your collection. They are prime examples of "verity in value" as illustrated, showing the emphasis placed on near mint to mint condition garnering higher grades. The population or those known to exist, influence the comprehensive prices paid as well.
The cards below are an example of how grading affects the value of a card. For more on grading and authentication, click on the topic link above.