Golf Art –
In His Shadow (Lee Elder),
by Richard Wilson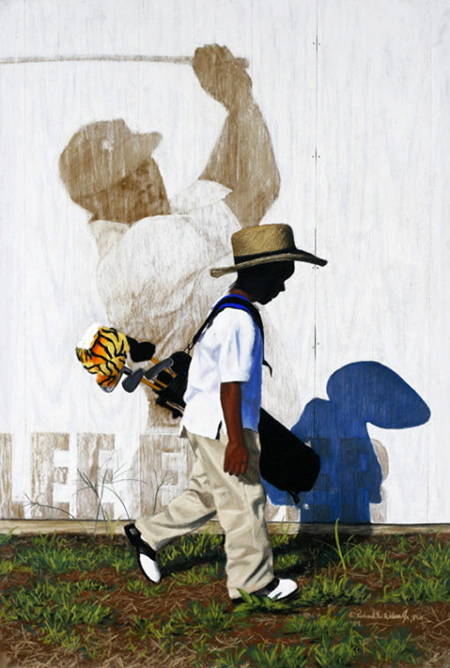 By Frank Cantrel Jr.
In 1975, Lee Elder became the first black golfer to compete at The Masters. In April 2021, nearly a half-century later, he will join Jack Nicklaus and Gary Player on the first tee at Augusta National as one of the event's Honorary Starters. That announcement was made recently by Augusta National Chairman Fred Ridley. Elder joined the PGA Tour in 1968 and posted his first victory in 1974 at the Monsanto Open. He was also the first black player to represent the U.S. on the Ryder Cup team in 1979. Elder won three more times on the Tour and posted eight wins on the Senior PGA Tour.
Elder's journey in golf has been an inspiration to many black golfers, among them Tiger Woods. In this original pastel painting, In His Shadow (Lee Elder), artist Richard Wilson commemorates Elder's pioneering role. The head cover invokes the inspiration that Tiger has also become. Woods, of course, is the defending Master champion having completed a remarkable personal comeback in 2019 to win his fifth Green Jacket and 15th major championship.
Wilson is a North Carolina native who studied art at Pitt Community College. His artwork has received numerous awards and hangs in both public and private collections. Wilson, a member of the GHS, has produced a series of golf-related works that can be found by visiting https://richardwilsonart.com/product-category/prints/golf-series-prints/.