A GHS member blog by Bill Reed
Hello members and friends of the Game.
This year of 2020 ( covid edition ) has definitely affected all aspects of our lives, all over the world. The PGA, the USGA, the R&A, and the playing of the four recognized Majors have made many distinct changes this year due to what has become a common phrase in our use of language: "social distancing." Due to the world-wide pandemic of the corona virus, the Majors have seen dramatic changes. The Open (The British Open ), for example, was cancelled this year. Normally, the final Major of the calendar year, The PGA Championship, was the first to be played. The U.S. Open Championship was next, held this year at Winged Foot Country Club in New York , and had many "golfing talking heads" all a-twitter about Bryson DeChambeau, a fixation on weightlifting, eating enough calories a day to feed a family of five, and swinging out of their spike-less golf shoes. 
The First shall be Last: The first of the four modern Majors, the Masters Tournament, held at Augusta National Golf Club in April (historically since 1934), is the last of the Majors to be held this year in November 2020. Tiger Woods is the defending champion, and I predict his defense will not be up to PAR. (pardon the pun).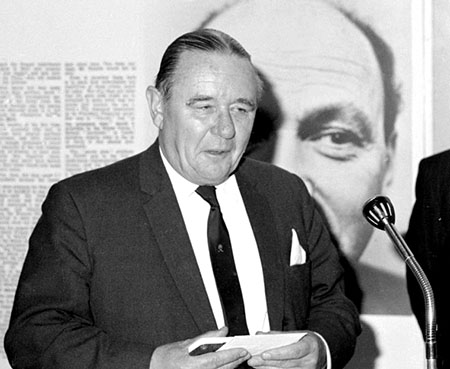 For many years, the voice from the tower at the par 3 16th hole at the Masters was Henry Longhurst. Henry Carpenter Longhurst was a British writer and golf commentator. He was born March 18, 1909, and passed on to greener fairways on July 21, 1978. During his career, he spent 45 years as a golf correspondent for the British newspaper, The Sunday Times. Longhurst was also a Member of the British Parliament during WWll. From the late 1950s, Longhurst, until his death, was the Senior Golf Commentator for the BBC. Frank Chirkinian of CBS liked his soft, laid back, stiff upper lip British style and hired him in 1965. Henry is most known by American viewers for his recalling of the 40-foot putt made by Jack Nicklaus on number 16, propelling Jack to his Masters victory in 1975: "My, My,….in all my life, I have never seen a putt quite like that."
Some of his other famous quotes were: "Playing golf is like learning a foreign language," and another: "They say that practice makes perfect. Of course it DOESN'T. For the vast majority of golfers, it merely consolidates imperfection."
Henry Longhurst was inducted into the World Golf Hall of Fame, located in St. Augustine, Fla., in 2017. In my opinion, his induction was long overdue. Fellow inductees of the class of 2017 were Davis Love lll, Ian Woosnam, Meg Mallon, and Lorena Ochoa.
I remember Henry Longhurst MOST not for what he said but what he didn't say. Henry never spoke aloud the terms eagle, birdie, par, bogey and even on occasion,  the term double bogey. He NEVER used the terms triple, quad, or such like. He would refer to those particular scores as "DREADED OTHERS." As I get older, and what little golf game I once had is rapidly vanishing, Henry and I have had a few embraces on the golf course, usually after I turn a possible par, bogey, or even a double bogey into a "DREADED OTHER."
I wish him well and eternity in peace but, damn, I wish he would haunt the Hall of Fame and stop haunting me!
In the recent playing of the U.S. Hickory Open Championship at Happy Hollow Club ( Oct. 5-6, 2020) in Omaha, Neb., I stubbed my first tee drive into gnarly rough, my second shot didn't reach the fairway cut. I eventually got on the par 4 first hole in five shots and then three-putted from there. A quad bogey 8. Henry came out of the bemused gallery and gave me an embrace and said "that's a classic dreaded other." He said he would follow me that entire day to bring me luck. I implored him to leave, and he did disappear until the 18th hole, where I had another hug from Henry and another "Dreaded Other." I begged him to leave and he agreed, but then said: "Billy, I'll see you tomorrow" for the final round.
Henry Carpenter Longhurst is one of my all-time favorites. I just wish he would go back to the Hall of Fame and leave me alone.