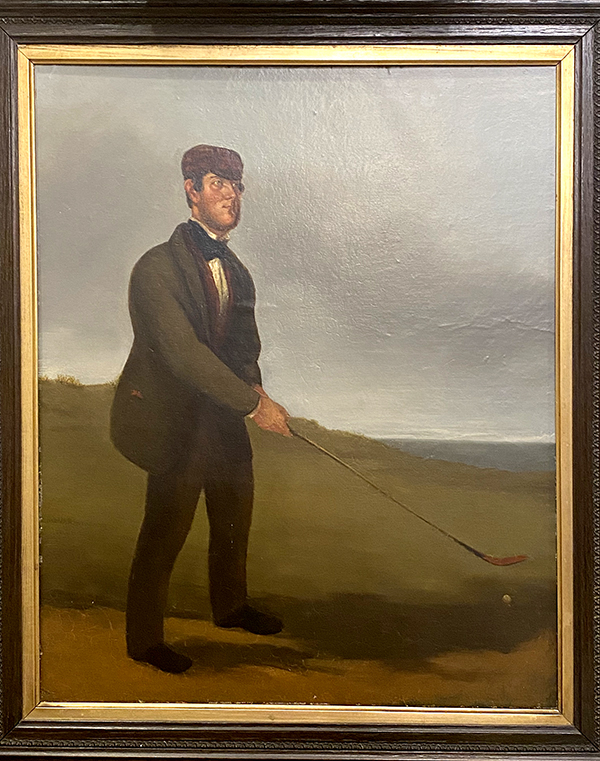 Willie Park Sr. – Artist Unknown
(Courtesy Jim McCormick)
By Frank Cantrel
This oil painting by an unknown artist unknown is of Willie Park Sr., winner of the first Open Championship. This is the only known 19th century oil of an Open champion done around the time of his victory. It was exhibited at the World Golf Hall of Fame for Park's posthumous induction.
Born near Edinburgh, Scotland, in 1833, Willie Park Sr. was one of the greatest golfers of the 19th century and is regarded as one of the pioneers of professional golf. He was the first professional to rise from the caddy ranks and won the Open Championship four times. The legacy of the Park family of Musselburgh, which includes Park's brother, Mungo, and son, Willie Jr., is revered by golfers and historians the world over.
In 1860, Park won the inaugural British Open, contested among the eight leading professionals of the day. The championship was played over 36 holes at Prestwick – three times around the 12-hole layout. The original prize was a "Challenge Belt," a red Moroccan leather belt with silver clasps. Park won it three more times — in 1863, 1866, and in 1875. In his final win, he received the Claret Jug that still is awarded to the "Champion Golfer of the Year."
It was an intense rivalry between Park and Old Tom Morris that drove interest in the championship's earliest years. Consider that in the event's first eight years, Park won three times and Morris won four. During that same period, Park finished second four times and Morris was runner-up twice.
The painting is in the collection of GHS member Jim McCormick.