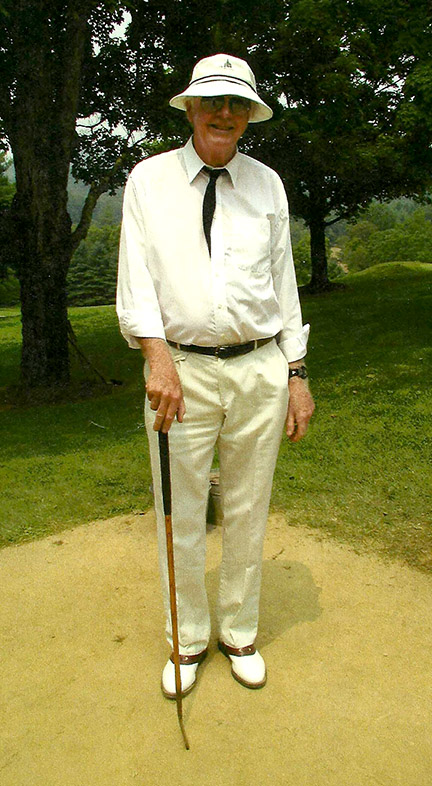 Feb. 24, 2022
Douglas W. Marshall, of London, Ont., Canada, member and past president of the Golf Historical Society of Canada, member of the Society of Hickory Golfers and the Golf Heritage Society, passed away at Victoria Hospital of complications from pneumonia on Feb. 23, 2022. He was 85.
Born in Niagara Falls, Mr. Marshall was a familiar face at hickory events around the United States and Canada. The oldest of five boys, he played just about every sport available in high school. Later, at McMaster University in Hamilton, Ontario, he played four years of basketball and golf and was elected to the university's Sports Hall of Fame in 1987. Mr. Marshall, who graduated in 1960, majored in business and history and earned a second degree in physical education, becoming a physical education teacher with the London Board of Education. He enjoyed teaching and was fortunate to have played with and coached a number of very successful basketball teams during his career. He served for 33 years as a teacher/coach, department head and athletic director, retiring in 1993. He was a member of Sunningdale Golf and Country Club in London, Ont., since 1964.
Mr. Marshall and his wife, Margaret (Marg), had two children and five grandchildren.
"I now enjoy watching their activities, sports and otherwise," he said in an interview in 2011.
About 1990, Mr. Marshall's brother, Ian, told him about the hickory golf events hosted by the Golf Historical Society of Canada (GHSC). He gave it a try and found he enjoyed the sport and the people, often playing in as many as 20 tournaments per summer. For a time he was a regular at the National Hickory Championship, then at the Oakhurst Golf Links in West Virginia. "I played there for 10 years before sanity and the hills got to me," he said. "Loved it though."
Mr. Marshall was an organizer and driving force behind the annual C.B. Macdonald Challenge and the Eastern Canadian Hickory Championship held at the Niagara Golf Course in Niagara-on-the-Lake in Ontario, Canada. A keen golf historian, he contributed occasional articles to The Jigger, the magazine of the GHSC; the Wee Nip of the Society of Hickory Golfers; and to The Bulletin and, later, The Golf of the Golf Heritage Society in the U.S.
During his retirement, Mr. Marshall and his wife spent many winter weeks in Pinehurst, N.C., where he joined the hickory golfers there for casual and formal golf events.
His hickory golf and historical society friends will long remember Mr. Marshall's sage wisdom, his easy golf swing and his friendship at the very many golf outings he attended. For many years, he was a host an organizer at a pre-1900 gutty golf tournament at Niagara-on-the-Lakes as well as a familiar participant in the Foxburg Hickory Championship (Foxburg, Pa.) in the U.S., an event where he will be much missed.
If desired, memorial donations may be made to United Way Elgin Middlesex.