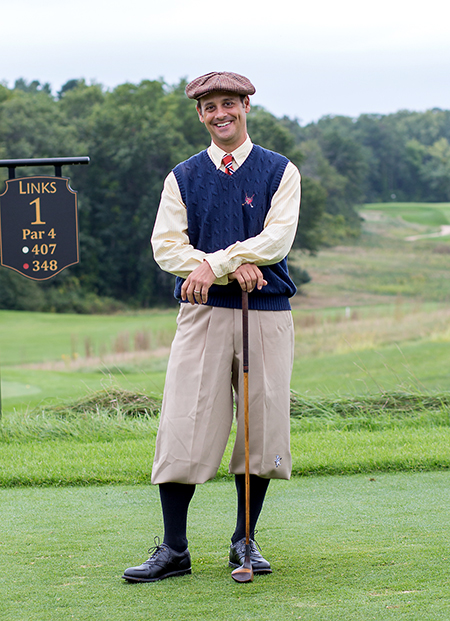 Bo Turocy, the Society of Hickory Golfer's secretary and the head professional at Wescott Golf Club in Summerville, S.C., is participating in a First Tee fundraiser in a 100-hole golf marathon.
He's looking for pledges from his fellow hickory golfers. Here's his note:
"Hey everyone! I have an opportunity to use my passion for golf to raise money for local junior golfers and I'm hoping you will help.
"I am friends with Bucky Dudley, PGA, who is also the director for The First Tee of Greater Charleston (here in Charleston, S.C.). He is organizing a local fundraiser on Aug. 8. It is to be a 100-hole marathon, with two-person teams in an alternate shot format. We are to take pledges/sponsors, etc. The hope is to have us raise around $2,000 per team. Proceeds will stay in Charleston to offset transportation costs in helping schoolchildren learn golf.
"My partner, Parker Dudley, an aspiring 27-year-old touring pro, and I are going to play the 100 holes with our hickory clubs and dressed in 1920's attire.
"I would love for everyone to support this cause with any amount you can afford. Some of the best memories from my childhood were spent on a golf course. If just one child can have this same opportunity, then this is a cause I want to champion.
"Please click the link below and consider "playing along" with me. All proceeds are tax deductible and will directly impact kids in the Charleston, S.C. area. Even if this is not your home, giving the gift of golf to a child is certainly a worthy endeavor. I believe in the game and how it can positively impact a life.
"The big day begins at 6:30 a.m. on Aug. 8. We are playing Patriots Point Golf Links, not an easy track even for modern clubs.
"Let's rally and do this! Please click the link below to contribute…and please feel free to share with your friends. Parker and I, and all the First Tee kids in Charleston, thank you in advance."
Click here to contribute to the 100 Hole Hike for Bo and Parker on behalf of the First Tee.
Click here for a short YouTube presentation of the 100 Hole Hike.
Bo and Parker's 100-Hole Hike is similar to an annual event conducted by Dennis "Marty" Joy, the head pro at the Belvedere Golf Club in Charlevoix, Mich. Marty annual conducts what is called "The Hickory 100" – 100 holes of hickory golf to benefit the Charlevoix County Junior Golf Program. As with the First Tee, proceeds are used for scholarships, golf programs, and green fees for area youth.
Bo's 100 Hole Hike is a worthy cause and we urge you to support him and Parker as they plan for day-long trek to benefit junior golfers in Charleston.