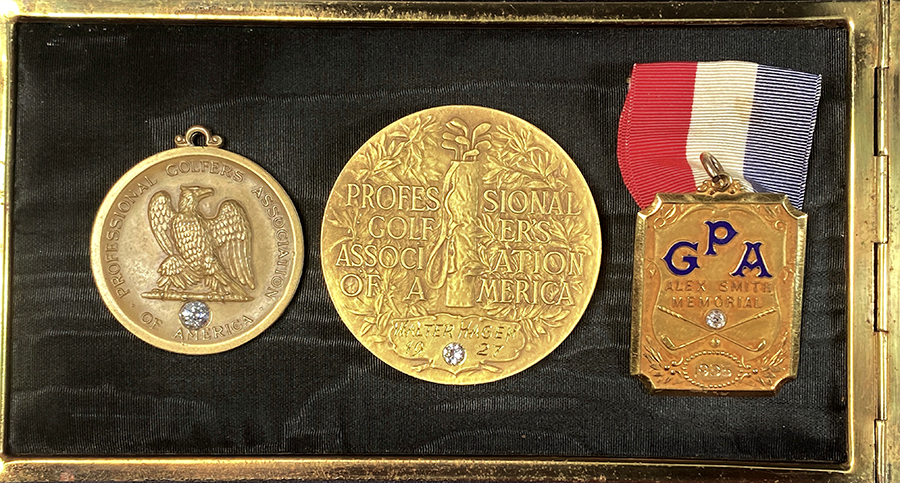 By George Petro
Saying that Walter Hagen won four PGA championships in a row is an understatement!
The PGA championship from 1916 through 1957 was held at match-play.  There is a good reason Walter Hagen is often considered the greatest match-play player.  While he did not play in the PGA Championship in 1919 or 1920, he won in 1921, (his gold medal with eagle and diamond in the photo above), having gone 5 for 5 in that event.  He did not play in 1922 because of scheduled exhibitions that promoted himself and also golf in general.  In 1923, after winning his first five matches he dueled Gene Sarazen in the final sixth match, losing in extra holes, for a running record of 10 and 1, with a win and a second so far.  He then won the next four championships in a row, comprising five matches each in 1924, 1925, 1926 and 1927, thus extending his record to 30-1, and having gained five gold medals, his fifth pictured as the large medal in the middle, above. 
Save for the last hole in 1923, he would have been a perfect 6 wins in 6 years of playing the event. He said he nearly passed on defending in 1927 as he preferred fishing at his camp in Watersmeet, Mich., but showed up the afternoon before the event to give others a target.  Interestingly, the rectangular medal shown was also Hagen's for winning the low qualifier prior to the match play portion in 1935 (called the Alex Smith Medal).  Abundant stories color his 11 major victories, five Western Amateurs, and numerous others.
He is known as the flamboyant character, who said "I never wanted to be a millionaire – I just wanted to live like one"; who did live large, "smelling the flowers along the way." His pre-tournament habit of asking "Okay, boys, who's coming in second?" might have been tongue-and-cheek, but made its point. His popularity grew the game and elevated the prestige and purses of his fellow pros. Hagen was a stunningly historic figure and master golfer.