Golf Art —

Postcards of Winged Foot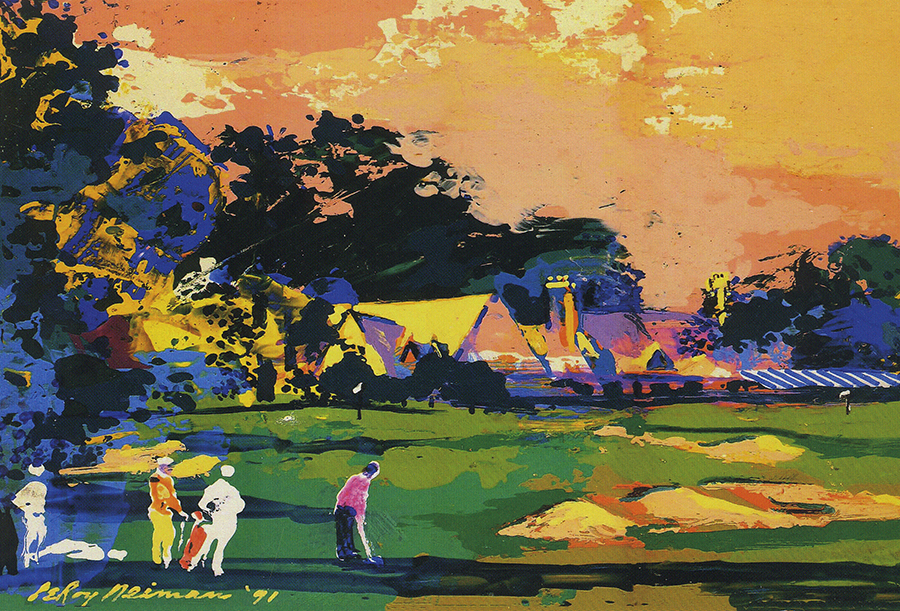 By Frank Cantrel Jr.
Golf art is produced on many materials — on paper, on canvas and even on postcards. It can also come in different mediums, including oil paintings and photography. Included here are two such examples on postcards — one that reproduces an oil painting of Winged Foot's famous par-five 9th hole on its West Course, "Meadow," and its famed clubhouse, above.
About LeRoy Neiman –
A Minnesota native, Neiman (1921-2012) painted countless major figures in the arts, politics, and sports in a career that spanned more than 60 years. His public persona — he was known for his handlebar mustache, cigars, and flamboyant white suits —was more than matched by an artistic style that has been described as "equally dynamic, articulate, and celebratory." His work captures the intensity of athletic competition with its vibrant primary colors, confident brushstrokes and an Impressionistic style that, at times, borders on the abstract.
Big Time Golf is Neiman's tribute to "the splendors of world-class golf, its premier players and courses" through 192 illustrations, including 167 full-color plates. Neiman's artwork has been the subject of more than 200 solo exhibitions and 100 group exhibitions organized by esteemed museums including the Art Institute of Chicago, the Whitney Museum of American Art and the Carnegie Institute of Art.
The other post card photograph, below, was taken from a similar perspective of the 9th green and clubhouse. Winged Foot's West Course has hosted the U.S. Open five times and the PGA Championship once.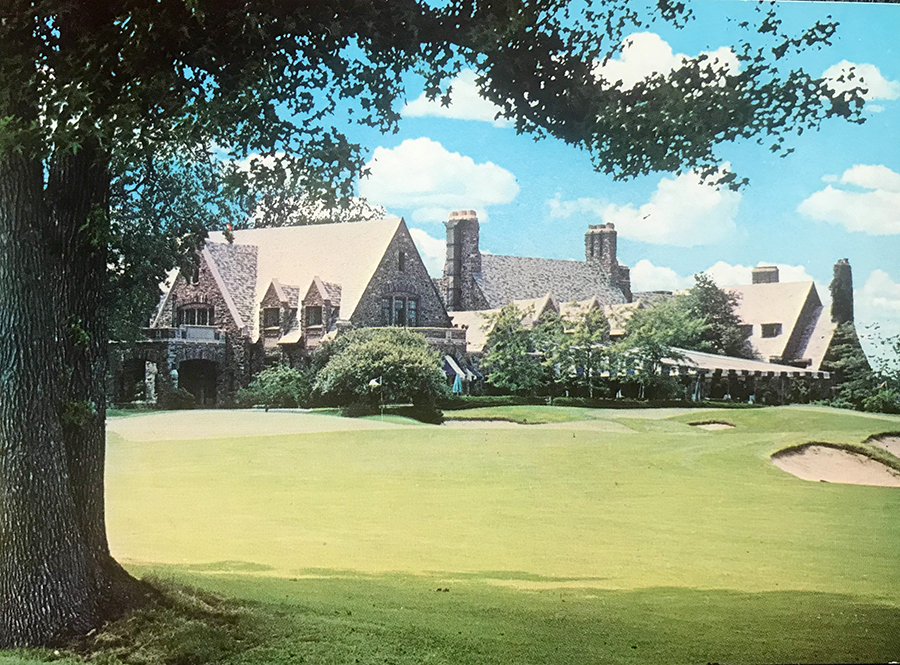 These postcards are from the collection of GHS past president John Fischer III. According to John, postcards were at their zenith in the 20 years prior to World War I and most of the finest were printed in Germany which had the most sophisticated printing equipment. Postcards were meant to be scenic and most golf related ones are of clubhouses for two reasons. First, cameras were bulky and heavy. And secondly, most photographers weren't well informed about golf or course architecture; clubhouse pictures were recognizable and easier to photograph.
Be sure to visit John Fischer III's Instagram site for more on golf-themed post cards – @collectiblegolfpostcards.