GOLF ART — Celebrating the Golden Bear's Birthday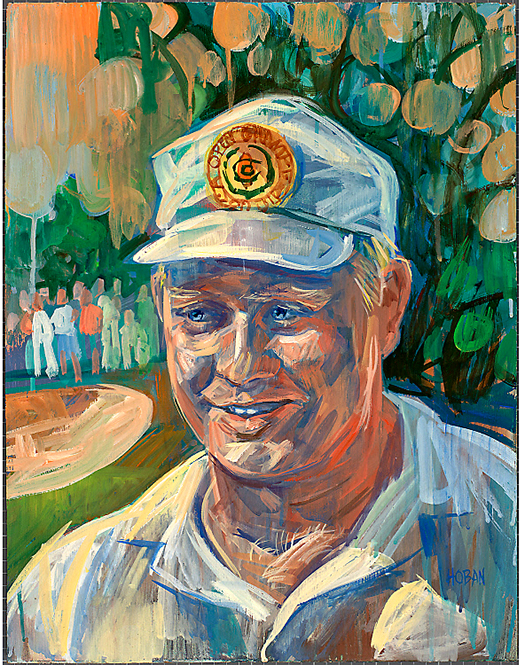 By Frank Cantrel Jr.
Jack Nicklaus, who has won more major golf championships than any golfer in history, was born on Jan. 21, 1940 in Columbus, Ohio.  The Golden Bear won a record 18 major championships.  Only two other players have won more than 10 majors — Tiger Woods (15) and Walter Hagen (11). Nicklaus is one of only five golfers to have won all four majors during his career — Woods, Ben Hogan, Gary Player and Gene Sarazen are the others.  
Nicklaus also came in second place in golf's majors a record 19 times. Phil Mickelson is a distant second with 11 and Palmer had 10 runner-up finishes.
After winning the U.S. Amateur in 1959 and 1961 and finishing second in the 1960 U.S. Open, two shots behind Arnold Palmer, Nicklaus turned professional at age 21 in 1961. His first professional victory came at the 1962 U.S. Open at Oakmont Country Club where he defeated Palmer in an 18-hole playoff.  A quarter century later, Nicklaus won his final major championship at the 1986 Masters. He was 46 years old and remains the tournament's oldest winner.
This portrait of Nicklaus appeared on the cover of Time magazine on June 29, 1962, following his victory at the U. S. Open. The original painting is a part of the collection at the Smithsonian Institution's National Portrait Gallery in Washington, DC.