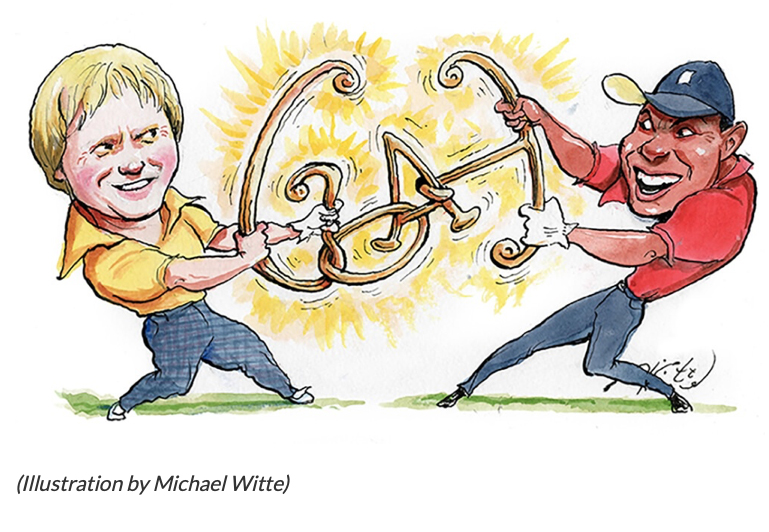 It's all about golf history.
You can't say enough about Tiger's talent and accomplishments but, there are others who have their passionate supporters. Surely Young Tom Morris must get some votes for his awesome skill and the fact that he changed the sport forever. Not to mention that legendary father of his. Hogan? Hagen? Vardon? Nicklaus?
Jack owns the record on majors and, oh yes, he did come in as runner up, oh, maybe around 19 times. Nobody else is even close to this. Tiger? A mere seven second place finishes. Pssh. Let's drop it another stop. Nicklaus had 48 top-three finishes, twice as many as Woods.
George Peper has raised this discussion yet again, for an article in LINKS Magazine. This topic has only been around since the beginning of the game, but Peper, possibly already bored by the quarantine on competitive sports, has fed a little fuel to this debate-with-no-conclusion.
Here's a link to Peper's article in LINKS Magazine. Read it and steep, then send in your, likely, lame votes for the GOAT of your choice.
Tiger or Jack? Those numbers speak for themselves.  Just an opinion.   Do you have one? Are you even willing to share it? Send it to editorthegolf@gmailcom. As for myself, I'm strictly in the Young Tom camp. Of course, Bobby Jones had that incredible Grand Slam. Vardon, though, was pretty strong in his day, I mean six Open championships, and only a few could beat him in 1900! Hagen did open things up for professionals… and then there's Ouimet, or maybe John Ball, or…
What? You have an opinion? Let's hear it. Might be that we'll publish all the results in the summer edition of The Golf. What do GHSers think? Is there a Greatest of All Time?