By Jim Davis
It could only happen at a meeting of GHS members.
It was to have been a typical Zoom meeting of the GHS board, one of a more casual nature to wrap up the year and toast the new one. One exchange during the hour-long call in late December typifies why the GHS is such an extraordinary group.
As often happens, GHS members, anywhere, who gather for more than 10 minutes at a time begin to share a few reminiscences or stories. Taba Dale, an author and artist from Arizona, shared a story of Jack Fleck and wondered how many on the call even remembered who he was or was noted for.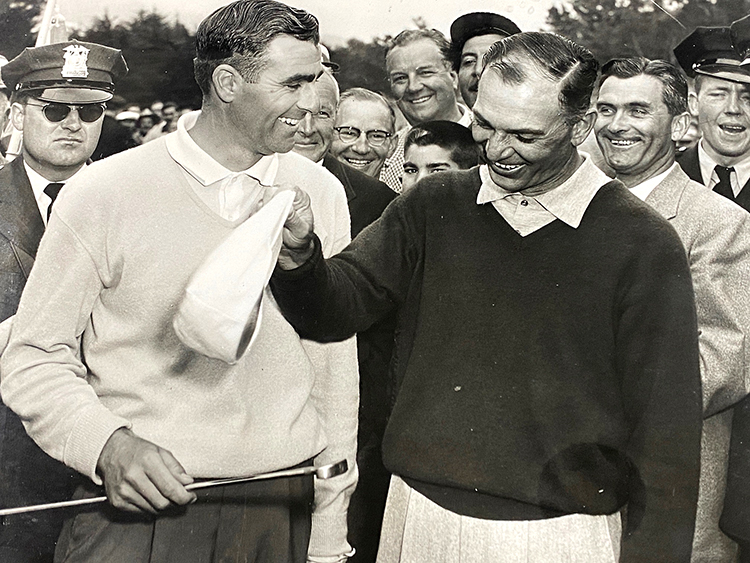 It took Region 1 Director George Petro only a moment to reach to his right – barely leaving his chair! – to come up with the 1955 U.S. Open gold medal that Fleck received for winning that championship, beating Ben Hogan, by the way, who was going for his fifth U.S. Open title. (Fleck, then a club pro from Bettendorf, Iowa, tied Hogan after four rounds at the Olympic Club in San Francisco and defeated the heavily favored Hogan in an 18-hole play off.)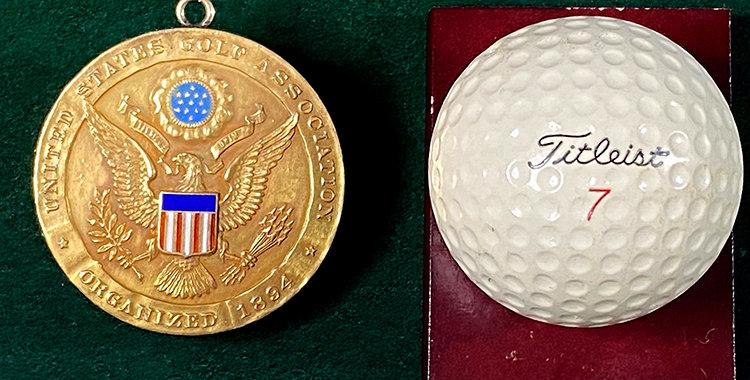 Petro also produced the ball Fleck used, holding it proudly for the camera before dropping it on the floor. At least he did not drop the medal! Petro acquired the items from a Kevin McGrath Sporting Antiquities auction in 1993. They had come directly from Fleck himself, he said.
"Supposedly," said Petro, after recovering the runaway golf collectible, "Jack parted with them when his golf course had earlier suffered heavy rains making it unplayable, devastating his income."
When the laughter and excitement of Petro's medals subsided, Bill Reed, past GCS president and current director-at-large, casually mentioned that he had participated in a 2007 hickory golf tournament with Fleck who was then living in retirement at Ft. Smith, Ark. No prodding was necessary to learn the details.
Reed said the event was the Arkansas Hickory Championship at the Hardscrabble CC in Ft. Smith. The host professional at that time was Jeremy Moe, a five-time winner of the U.S. Hickory Open, who is now based in Boca Raton, Fla. The tournament was sponsored by Breck Speed, who was then the CEO of Mountain Valley Water Co. of Hot Springs, Ark. Reed, who is executive director of the Hickory Golf Association, provided many of the hickory play sets for the event.
Reed said he was paired with Fleck for the practice round and scheduled to be in the first foursome with him for the first tournament round the following day.
"Fleck was really a shy and introverted person unless he really knew those around him," Reed recalled. "He leaned very right politically and didn't spend too much time with those that he felt were more liberal. At the cocktail reception the evening of the practice round he savored his bourbon on the rocks and tried to avoid the spotlight, although he was aware of his guest and fame status. After quizzing me over a whiskey or more, Fleck determined that I was a fiscal conservative and leaned politically the same direction as he did. After a few more "doubles" he gave me a heads up that he would not be playing the next two days. He said he just couldn't get the hang of the hickory clubs and as a past National Open Champion he was not going to dishonor himself or the game by shooting an embarrassing score."
Fleck announced the next morning that he had a severe case of intestinal discomfort and would not play. Reed kept the secret and said he was honored that Fleck felt comfortable enough with him to share the confidence.
These are the kinds of stories and golf treasures that surface whenever two or more GHS members get together and start swapping tales. No wonder it's the kind of organization that appeals to so many who honor the history of the game.