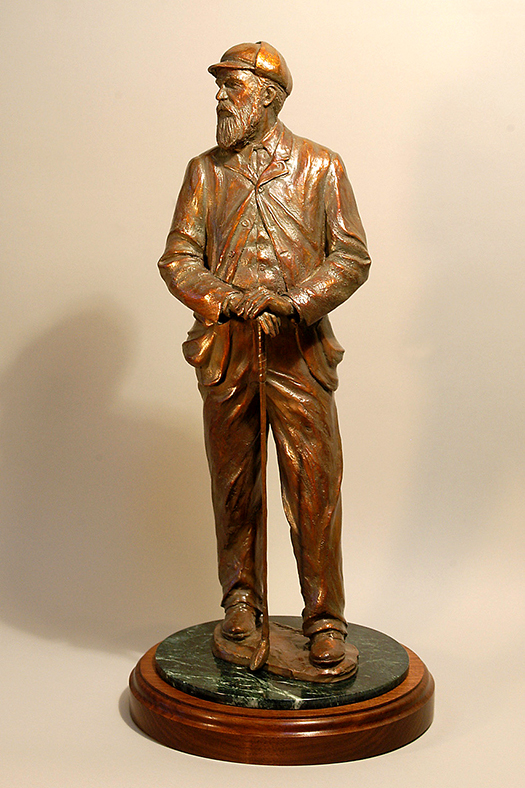 Old Tom Morris, bronze, by Robert Fletcher
This statue, of the venerable Tom Morris, Sr., stands 26" x 8" x 8". Known affectionately as "Old Tom," Morris was a seminal figure in the history of golf. As described by the World Golf Hall of Fame, "Morris didn't invent the game of golf, but he is recognized as the sport's founding father."
Born in St. Andrews, Scotland, June 16, 1820, Morris spent 12 years as a golf ball maker under Allan Robertson before moving to Prestwick where he became its " keeper of the greens." The first British Open was played at Prestwick. He finished second to Willie Park in the first Open Championship, won the next two, finished second to Park again in 1863, then won again in 1864 and 1867. In all, Old Tom played in the first 36 British Opens.
Morris also had a huge impact on other aspects of the game. He advanced the art and science of green-keeping and bunker maintenance, for example. He was also very influential in standardizing the length of a golf course at 18 holes. Consider that the Old Course at St Andrews was once comprised of 23 holes.
Old Tom also became the first of the great golf course designers, producing or redesigning some 75 golf courses in the United Kingdom, including Prestwick, Royal Dornoch, Muirfield, and Carnoustie.
The artist, Robert Fletcher, a Chicago native, spent almost forty years in the fields of graphic design and illustration. He painted and sculpted during that time and now continues as a full-time fine artist. Fletcher, a GHS member, has received awards of recognition both regionally and nationally. His work has graced the cover of the GHS quarterly journal The Golf. For more information, visit his website: https://www.robertfletcherart.com