"I'm Sorry Sir, But Who Are You?"
How a misinformed hotel concierge nearly barred Donald Ross from Los Angeles' finest courses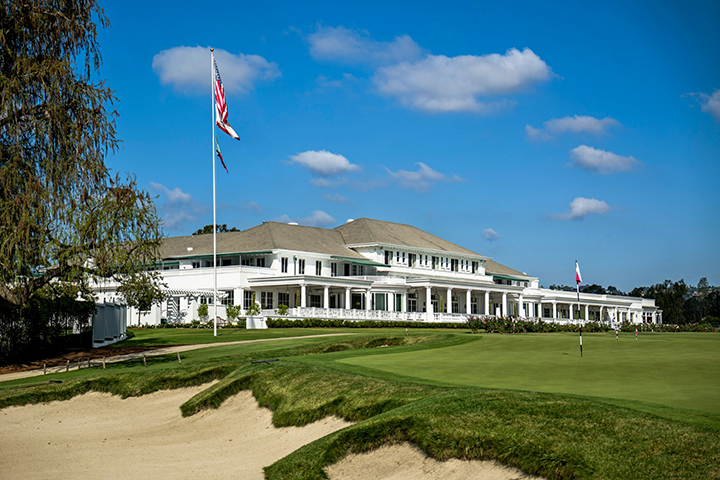 By David Moore
For the first time in 75 years, golf's biggest stage returns to the Hollywood lights with this year's U.S. Open being hosted for the first time by Los Angeles Country Club. In just a few days time, LACC's North Course will determine the winner of the 123rd United States Open Championship, with the hopes that if a marquee name doesn't take the title, then hopefully a new "star is born" so to speak.
The game of golf has a long history in the state of California. It began to truly take hold, like the rest of this country, during the final decade of the 19th Century. Its first golf course took shape in 1892 at Catalina Island, a public course that can still be played today. Over the next century-plus, it has been the birthplace to countless stars – Johnny Miller, Tiger Woods, and Phil Mickelson – not to mention the home of some of the game's most beautiful and timeless golf courses – Pebble Beach, Cypress Point and Riviera Country Club.
Our current story has a somewhat comedic element that begins with a desperate invitation to redesign a prominent country club and ends with near calamity when an unaware hotel concierge was unaware of the importance of a guest. This is the story of the legendary Donald Ross' near misadventures in the Hollywood Hills.
A Brief History of Golf in Los Angeles and LACC
While golf was booming in surrounding areas like Riverside and Pasadena, Los Angeles didn't get bit with the golfing bug until the end of the 1890s. In 1897, a visiting Englishman named Walter Grindlay was making a playing tour of the area. While in Santa Monica, he frequently played with a sporting goods merchant named Edward B. Tufts, a tennis enthusiast who was becoming smitten with the game.
When Grindlay's travels continued to Los Angeles proper, he found the town of 85,000 inhabitants didn't have a proper golf course and was prepared to move on. With his help, Tufts and two disciples, Hugh Vail and E. Conde Jones, the group organized the "Los Angeles Golf Club" in late 1897. The group leased a 16-acre plot of land at the corner of Pico and Alvarado Streets, which also had the fortune of being situated near two train stations.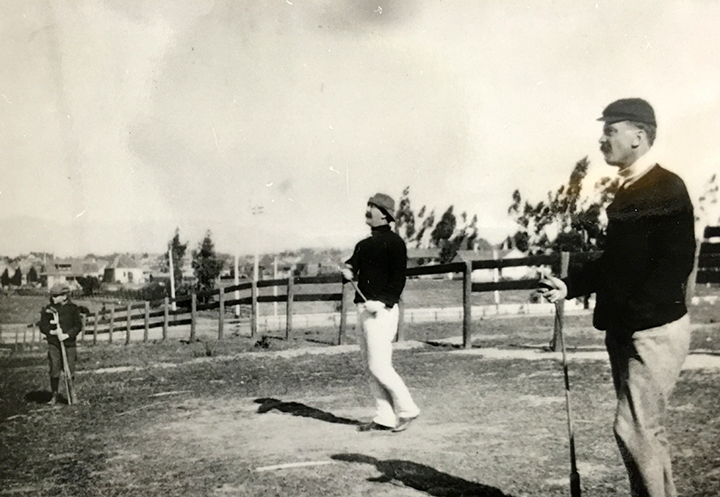 Upon this small plot of land, a nine-hole golf course was erected called "The Windmill Links," as the club made its clubhouse in the bottom of an abandoned windmill on the property. The course featured oiled sand greens, each roughly 22 feet in diameter. Under Grindlay's direction, the others created the routing that would eventually become the very first home of Los Angeles Country Club.
The game took hold.
By the following fall (1898), the Windmill course proved to be too small for those wishing to partake. Tufts was joined by a new founding partner in bank executive Joseph Sartori, who helped secure the new home of LACC in the "Pico Heights," which they named the "Convent Links," due to its location behind a convent near Rosedale Cemetery. A nine-hole course was laid out, and in October 1898, Los Angeles Country Club was officially incorporated.
The Convent Links proved to be too small by the following spring, and once again, LACC was looking for a new home. Tufts and Sartori secured a property just west of the Convent course, located at Pico and Western Avenues. The new property had room for an 18-hole golf course, which became one of the first 18-hole courses west of Chicago.
In 1899, the leadership from all the area clubs – LA, Riverside, Redlands, Pasadena and Santa Monica – joined to form the Southern California Golf Association. Charles Maud of Riverside was elected president, J.B. Miller of Pasadena was named vice president, and Sartori was named secretary. The following year, they hosted their inaugural amateur championship, with future pro Charles Orr taking the title.
With the turn of the century, the game only continued to grow in Los Angeles, just as it was across the United States. By 1908, the new confines of LACC proved too small, forcing one final move into Beverly Hills where the club presently resides. The new course was laid out by Tufts and Sartori, with the help of professionals Norman MacBeth and Charles Orr.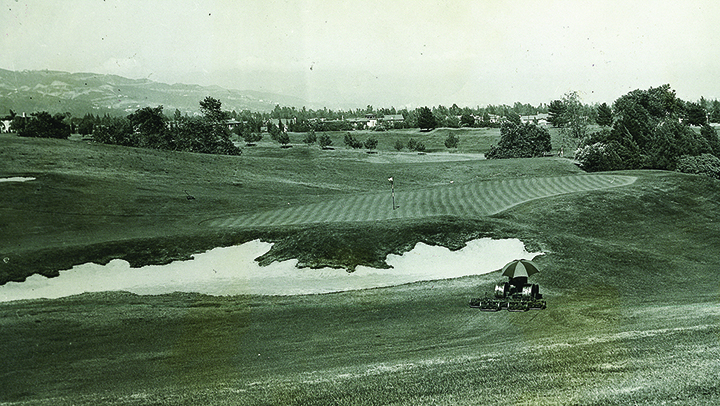 Over the next two decades, the game continued to grow around the Hollywood Hills. Los Angeles Country Club's current location officially opened in 1911. George Thomas and Herbert Fowler renovated the course and added a second 18 holes. Other clubs were not long in coming: the Wilshire Country Club in 1919, designed by Norman MacBeth; the Hacienda Golf Club in 1920; Oakmont Country Club in Glendale in 1922; Bel-Air Country Club in 1925; and Riviera in 1926.
"Name Your Price" – Peninsula Golf & C.C.'s History and Ross Engagement
The Peninsula Golf and Country Club was officially founded in December 1911 as the Beresford Country Club. Located on the outskirts of San Francisco, the club was made up of the area's prominent Jewish families. The original course was laid out by Tom Bendelow and constructed by E.C. Lydon, who served not only as the Club's greenkeeper for the next 25 years, but also its general manager. The club even had enough sway to lure Harry Vardon and Ted Ray out to its links as part of their 1913 American Tour. The Englishmen played against the threesome of Beresford's professional, Louis Berrien, crack amateur Harold Mack, and nearby Burlingame professional, Fred Reilly. The Jerseymen claimed the two 18-hole matches.
Following World War I, Club President Walter Stettheimer wanted to expand the club and bring in a big-named architect to reconstruct the course. By 1922, he had acquired the land he needed, now he had to find the architect to bring his championship golf course dreams to life.
Enter Donald Ross.
The native Scot had made a name for himself along the eastern seaboard, building golf clubs from New England to the Florida beaches. He was arguably the most in-demand architect in American golf, and Stettheimer would settle for no one less.
Except Ross wanted no part of California.
Ross' schedule proved to be incredibly tight. He was reportedly scheduled out three years, and had no interest in traveling across the country to the Pacific Coast for just one job. He initially denied Stettheimer's request, saying he was "too busy back home and the trip is too costly."
But Stettheimer would not take no for an answer. He wrote Ross once again. This time, in a telegram dated Feb. 25, 1922, Stettheimer essentially wrote back, "Name your fee and please reconsider." Ross named a fee of $4,000 to travel out to San Mateo and visit the property. He also decided to take a few days in Los Angeles as part of the trip, hoping to play some of the wonderful courses that had sprung up over the previous decade.
Ross arrived in Los Angeles in July 1922, planning to stay at least three days before taking a train north to San Francisco and the Beresford Country Club. He hoped to relax for a day or two with a round of golf, possibly at LACC or Wilshire CC.
Figuring arranging golf would be no issue, Ross approached the hotel's concierge and asked him to organize play at LACC. The concierge was baffled by the request and told Ross that not just anyone can walk on to LACC, that it was by invitation only. Same for Wilshire Country Club.
Ross was dumbfounded. He figured a golfer of his stature, let alone his reputation as an architect back East, would have been more than enough to gain entry. Which would have been true, except the concierge hadn't the vaguest idea of who Ross was.
According to Peninsula Golf and Country Club Historian Michael Jamieson, Ross was saved by an old friend, Charles Orr, the 1900 Southern California Amateur Champion. Orr had helped design LACC prior to the Thomas renovations, meaning he had quite a bit of sway at the club. Ross was also acquaintanced with Norman MacBeth, who, along with Orr, had designed portions of LACC and later Wilshire Country Club.
The duo saved Ross' visit to Southern California. Ross got in his golf, despite the ignorant concierge, before he left the Hollywood Hills for the San Francisco Bay. Once at Beresford, he sought to completely reroute Bendelow's original course, giving Stettheimer exactly what he hoped. Lydon oversaw the physical construction of the course and by September 1923, the first nine holes opened for play. The second nine followed in the spring of 1924. Ross was also instrumental in finding Beresford its professional, recommending fellow Scotsman Willie Nicoll, who served as the club's teaching pro for the next three decades.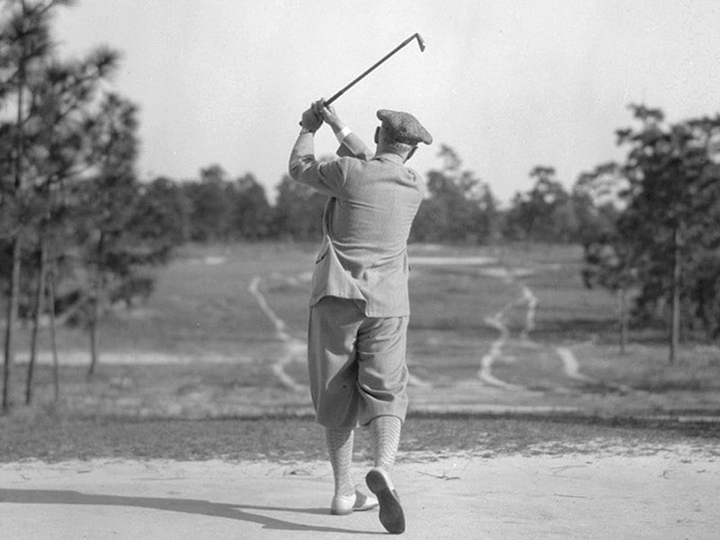 Final Notes
The Beresford Country Club, now Peninsula Golf and Country Club, would prove to be Donald Ross' only design in the state of California. Ross' work on the east coast certainly kept his schedule full, and the added cost of traveling west likely kept him from traveling west of the Mississippi, unless someone like Walter Stettheimer said "name your price."
Over the past century, golf in Southern California blossomed. Countless golf courses have come and gone, but today there are nearly 1,000 courses in the state.
In that century, California has become the home of annual PGA Tour stops that have included San Diego, Los Angeles, and the Monterey Peninsula in recent years, not to mention the LPGA Tour's annual visits to Los Angeles, San Francisco and Palm Springs.
Major championship golf will be the focus for the next few weeks. Majors have been contested in California since 1929, when Hillcrest Country Club hosted the PGA Championship where Leo Diegel claimed the Wanamaker Trophy. While major championship golf has been played in the Hollywood Hills over the past 40 years (the 1983 and 1995 PGA Championships at Riviera), 2023 will be the first U.S. Open in Los Angeles since Ben Hogan claimed his first of four U.S. Open titles at Riviera in 1948.
And in just a few days time, another golfer's name will be shown on the marquee in Hollywood. Will another star follow in the footsteps of Hogan, Nicklaus, Casper and Woods in having their name in bright lights, or will someone breakthrough and make a name for themselves like Jack Fleck did in 1955? Only time will tell, but one thing is for sure – if any of these guys want to play an exclusive Los Angeles country club on their trip, they probably won't have the same issue that Donald Ross did a century ago.
Author's notes: Thank you to Mr. Bradford Becken, LACC member and president of the Donald Ross Society for first putting me on to this story about Ross' near misadventures in LA. I would also like to thank Michael Jamieson, Historian of Peninsula Golf and Country Club, for filling me in on the full story, and sharing some resources that I could use to present this story to our membership.
David Moore is a Region 2 GHS Ambassador, and winner of the Society's 2022 Golden Quill Award. He serves as the Curator of Collections at Oakmont Country Club and Curator of History at Allegheny Country Club, both outside Pittsburgh, Pa. Dave also serves as an independent historical consultant for other country clubs, having worked with Edgewood Country Club, Montclair Golf Club, the Pittsburgh Field Club, amongst others. Follow Dave on Twitter at @pagolfhistorian or email him at dmoorehistorical@gmail.com with questions or inquiries about consulting.