Random Golf Notes – By John W. Fischer III (2017)
A while back I saw Harold Lloyd's World of Comedy on Turner Classic Movies, a movie composed of excerpts from Harold Lloyd's silent movies. I enjoyed the movie – it was very funny, physical humor but not slapstick -– and in doing a little research on Lloyd afterwards discovered he was one of the most popular and successful comedy stars of the 1920s and of all things built a private golf course for which several reputable sources list Alister Mackenzie as golf course architect, best known for his design of Augusta National GC.
I didn't pursue anything more about the course or Mackenzie's design until I found a photo of Lloyd's course dated December 1943 at a recent Golf Collectors Society trade show. The photo had been oddly trimmed but showed a water hole with a building in the distance.
I began to dig some more and from reading a Lloyd biography learned that he had purchased 16 acres on Benedict Canyon Drive in Beverly Hills for a new home in 1923 and hired noted landscape architect A.E. Hanson to design the grounds. During a walk around the site with Hanson, Lloyd asked if a golf course could be included on the estate. Hanson told him it could, and contacted a top golf course architect, George C. Thomas, who turned down the engagement. The job was undertaken by William P. Bell who had worked on construction of several Thomas designs. Clearly Alister Mackenzie was not the architect of Lloyd's new course. There are unconfirmed references to Mackenzie designing nine hole courses for silent movie actors Charlie Chaplin and Douglas Fairbanks whose estates were near Lloyd's property, perhaps creating confusion regarding Mackenzie and the course design for Lloyd.
Lloyd named his estate "Greenacres," which had elaborate gardens, fountains, a tennis court and an Olympic size pool, but the golf course was seemingly unusual, not because private golf courses are themselves unusual, but because Lloyd had a physical infirmity which would suggest he wouldn't be a golfer. In 1919 Lloyd was posing for a publicity photo lighting a cigarette with the burning fuse of a bomb which turned out to be live and not a dummy. An explosion ensued and Lloyd lost his right thumb and index finger. Studio boss Sam Goldwyn, a former glove maker, fitted Lloyd with a prosthetic to replace the lost digits. Lloyd resumed acting and doing his own stunts. He was in wonderful physical condition, extremely coordinated and athletic, and learned to cope with an odd golf grip.
Lloyd named his new golf course "Safety Last" after his hit movie of the same name in which he hangs to the hands of a huge clock atop a tall office building. The course has been described as having nine holes, and some say it was a par three, but both are incorrect. Journalist, writer and golf course architect Geoff Shackelford found Safety Last was actually a five-hole course with alternate tees, making it a 10-holer, consisting of two par-fours and eight par-threes, all with water in play from a canoe run which Bell included in his course design.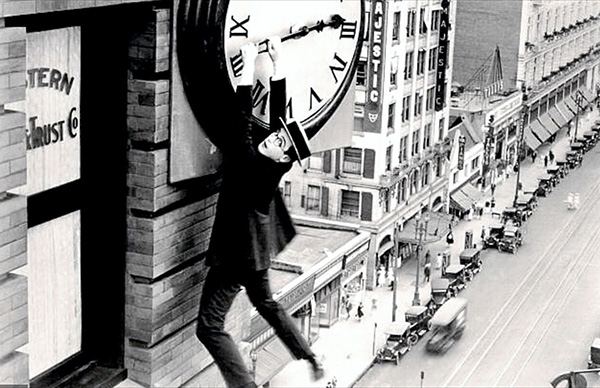 Lloyd's next door neighbor was Jack Warner of Warner Bros. Studios who had his own nine-hole course which adjoined Safety Last. Lloyd and Warner build a passage through the fence which divided their properties so a full round could be played.
Lloyd's course may have been short, but it wasn't easy. Professional golfers considered it one of the hardest scoring courses in Southern California due to the water winding through each hole and contoured greens. The course opened in 1927 and before the Los Angeles Open that year Lloyd held a small invitational tournament with a field that included Tommy Armour, George Von Elm, Bobby Cruickshank, Walter Hagen and Joe Kirkwood. At that event, professional Eddie Loos, known as a great putter, returned a score of 28, four under par, setting the course record. Loos received a gold golf ball in recognition of his record. Lloyd kept other gold balls in a safe for anyone who set a new course record. It is unclear whether the 28 was ever bettered or whether the invitational tournament was continued in subsequent years.
Lloyd could well afford Greenacres and all its luxuries. He was a talented actor and comedian, hard worker and an astute business man. He started by making short comedies, one a week, then graduated to longer films and full length features. He owned the films himself and received 80% of the profits from Pathe, the distributor of his films and the entity which also funded them. By 1929, Lloyd had earned the equivalent of $2.1 billion in today's dollars (no typo, that's with a "B").
Lloyd lived at Greenacres until his death in 1971 at age 77. The house, the golf course and the grounds were open to tourists until 1975 when they were auctioned off. The new owner kept the house and six acres, but 10 acres, including the golf course, were sold off for development. Safety Last was no more.
Lloyd is little known today except by film buffs, partly because he refused to allow his films to be shown on television.