The U.S. Women's Open celebrates its 75th anniversary this year. Patty Berg was its first champion.
By Jim Davis
Born in Minneapolis, Minn., in 1918, six years after Hogan, Snead and Nelson, Patty Berg was the daughter of Mr. and Mrs. Herman Berg. Her father was a grain dealer and member of the Chicago Board of Trade. The youngster was a handful, the quintessential "tomboy," a descriptive word of the day for young women who did not follow prescribed cultural norms of demure behavior. Young Patty loved sports, especially, to her parent's concern, football. By her early teens she was quarterback and coach of a local team called the 50th Street Tigers, a team that included Bud Wilkinson who later became a legendary coach at the University of Oklahoma.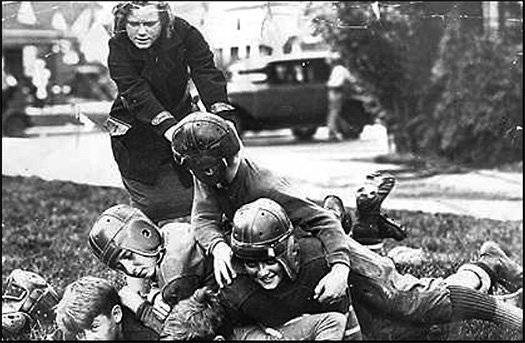 Thinking perhaps another sport might be a better idea, Berg's parents steered their energetic daughter toward golf. It was a good move. Three years later she was the Minneapolis city champion; a year later, she reached the finals of the 1935 U.S. Women's Amateur championship held at Berg's home course, Interlachen, in suburban Edina. It took the country's dominant amateur of the 1930s, Glenna Collett Vare, to defeat the 17-year-old Berg, who, as a result, earned much media attention.
Her parents must have been quite proud and extraordinarily happy that their young firecracker was making headlines in golf and not football.
Next up for Berg was a career at the University of Minnesota (Kappa Kappa Gamma sorority), where, at 18, she was part of the team that won the Curtis Cup, the women's Walker Cup, against the British. In 1937 she again finished as runner-up in the U.S. Amateur, but won her first major – the Titleholders, as it was called, a tournament billed as the "women's Masters," and played at the Augusta Country Club, since Augusta National was still closed to women. Berg would also win the Titleholders in 1938 and 39. (The Titleholders Championship, an invitational for winners of various amateur and professional events, was played from 1937-66 and once more in 1972.)
As gifted as she was, Berg recognized she needed help to bring her game up to competitive standards at a high level. In 1935, she reached out to professional Johnny Revolta, then a leading golfer on the pro tour and head pro at Chicago's Evanston Country Club. She spent the entire winter of 1935 working with Revolta to polish her game and would make annual trips to see him over the next decade.
"There is nothing in this game of golf that can't be improved upon if you practice." – Patty Berg
The relationship certainly worked as Berg went on a tear. In 1938 was a she combined the Titleholders win with another Curtis Cup victory and a breakthrough victory in the U.S. Amateur. For this stellar record, the Associated Press named her its "Athlete of the Year' and would so honor her again in 1943 and 1955.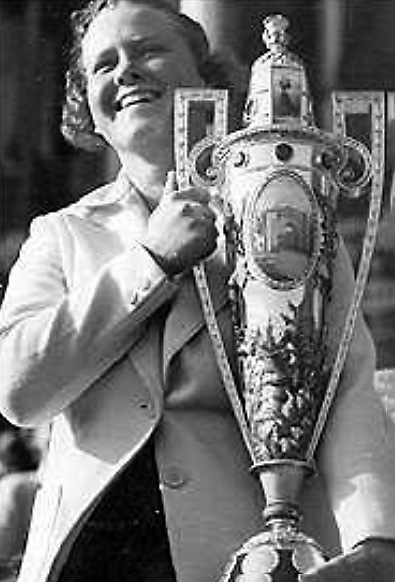 (The working relationship with Revolta didn't hurt his career either, as many other women professionals began to seek his teaching expertise. Over the years he would work with Betsy Rawls, Mickey wright, Kathy Whitworth, and Jane Blalock among others.)
Only 5-feet-2 inches, Berg was possessed of a powerful frame capable of regularly launching prodigious drives; matched with a precision iron game, the combination was nearly unbeatable.
It seemed there was no stopping the young golfing dynamo who would notch 29 amateur victories before turning pro in 1940. As there was no women's tour at the time, Berg, already a media darling, agreed to a deal with Chicago-based Wilson Sporting Goods who promptly named their champion "Dynamite" and sent her on a schedule of exhibition matches and clinics. It was a success. Her Patty Berg Wilson clubs became so popular that they were coveted by aspiring young women golfers for years afterward. Many are now sought after by collectors. Berg would remain a member of Wilson's Advisory staff until her death.
At an interview with Chicagoland Golf magazine late in her life, Berg estimated she gave more than 16,000 clinics in her lifetime, most sponsored by Wilson, and called "The Patty Berg Hit Parade." She also estimated that she personally introduced perhaps a half-million new players to the game.
Now firmly established in the golfing world, Berg set her sights on the Women's Western Open (at the time a major) and would win it a record seven times, the first coming in 1941.
A car accident in 1941 that shattered her knee interrupted her golfing march, but neither this, nor the advent of World War II would keep her down for long. As soon as possible following her recovery, Berg volunteered for the U.S. Marines. In 1942 she was commissioned a second lieutenant and began a series of tours to promote war bond sales. By the way, she also managed to find time to win the 1943 Western Open as well. She served in the Marine Reserves from 1942 to 1945.
With the war finally over and things returning to a new normal, Berg resumed her golf career in 1946 with a statement by winning the inaugural U.S. Women's Open, the only one to be held at match play. She prevailed 4 and 3 against Betty Jameson, a good friend who would later help Berg found the LPGA.
"I wouldn't care if I won another thing. I still would be as thrilled. The winning is only incidental. The real kick I get out of the tournaments now is the opportunity to get together with my golfing friends, meet new ones, and the sociability it all means. I like the thrill of competition and like to win as much as anybody, but friendship right now is more important."
From an interview with the Minneapolis Star in 1946, after Berg won the first U.S. Women's Open.
Over the next several years she, and good friend, Babe Didrickson, would dominate women's golf. Berg won the Titleholders in 1948, and five more Western Open victories after the war. 
With their growing popularity and with more women golfers entering the game, Berg, Didrickson, and Betty Jameson in 1948 established the forerunner of the LPGA, the Women's Professional Golf Association (WPGA). Berg won three tournaments that season and in 1949. 
In 1950, Berg, Didrickson and 11 other women pros – including GHS member Shirley Spork – took it up a notch, establishing the Ladies Professional Golf Association, with Berg as its first president. 
In 1951, Berg and Didrickson led a team of six women to Britain for an exhibition against the British hopefuls for the Walker Cup team. Down 2½ to ½ at lunch after the twosomes, the U.S. women swept the singles to beat the men 6½ to 2½. It was said that a Berg pep-talk was the catalyst for the turn-around.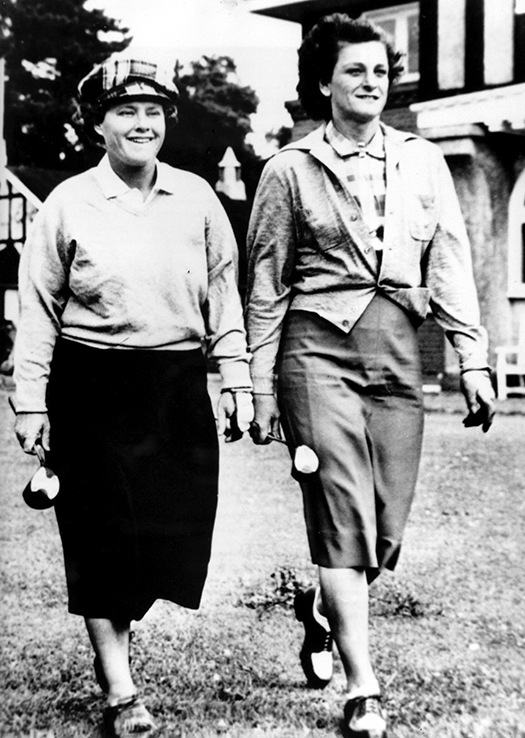 Although she won three more Titleholders and was the leading money winner on the LPGA circuit in 1954 and 1957 (she was the first woman to notch $100,000), Berg never won the LPGA championship, finishing runner-up in 1956 and 1959, and runner up in the 1957 U.S. Open. During a four-year stretch from 1953 to 1956, Berg won the Vare Trophy three times for having the lowest scoring average on the LPGA.
What does it take to be a champion? Desire, dedication, determination, concentration and the will to win. – Patty Berg
Throughout her LPGA career, Berg was sponsored by public golf patriarch Joe Jemsek, owner of the famous Cog Hill Golf & Country Club in Lemont, Ill., site of the PGA Tour's Western Open from 1991 to 2006. She also represented another of Jemsek's public facilities, St. Andrews Golf & Country Club in West Chicago, Ill., on the women's circuit for over 60 years.
(Jemsek had a pretty interesting career himself and was on the pro tour for a short time. In 1947, his St. Andrews club was the first public course to host a U.S. Open qualifier, and the first to offer USGA handicaps for its regular players.)
Even dynamite begins to lose its strength over time, and Berg began to cut back. By 1962 she retired from the tour, though she would continue playing, promoting golf, and engaging in charitable work. In Florida, she and pro Nolan Henke set up a training program to aid promising golfers.
"Always keep learning. It keeps you young. – Patty Berg
In 1963 she received the Bobby Jones Award, the highest honor given by the United States Golf Association in recognition of distinguished sportsmanship in golf. Later, in 1986, she received the Old Tom Morris Award from the Golf Course Superintendents Association of America, GCSAA's highest honor.
At her induction to the LPGA Hall of Fame in 1951, along with Didrickson, Jameson, and Louise Suggs, Berg quipped that "I'm very happy I gave up football."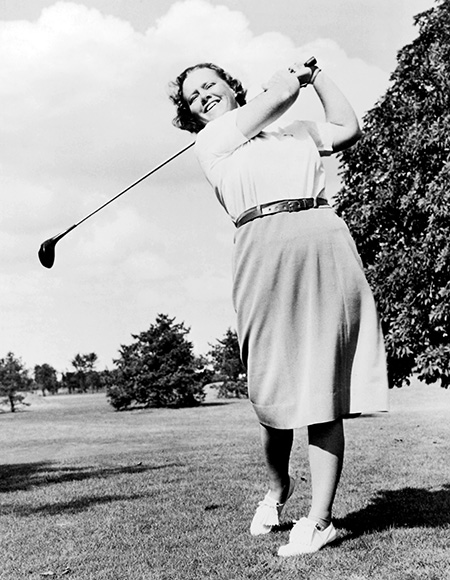 In 1978, the LPGA established the Patty Berg award, given to the person who each year makes the greatest contribution to women's golf.
For her last big public appearance, Berg was honorary chair of the 2002 Solheim Cup, the women's Ryder Cup, held at her old home course in Interlachen. Her 15 major title wins remains the all-time record for most major wins by a female golfer. She is a member of the World Golf Hall of Fame.
"Patty was a wonderfully talented woman who was dedicated to golf, to growing the game and to making the sport fun for golfers of all ages," said then-LPGA Tour commissioner Carolyn Bivens at the time of Berg's death in 2006. "She was a pioneer, an athlete, a mentor, a friend and an entertainer. She had a sense of humor that sparked a smile in all who met her."
Berg died in Fort Myers, Fla., at 88 in September 2006 from complications with Alzheimer's.
"I had known Patty since I was a rookie on the LPGA Tour. She was a pioneer in my eyes, but yet she was a real person. She never met a stranger. She was the greatest ambassador the LPGA ever had. She was a great humanitarian and her friendship meant more to me than anything. I loved her because she was loyal and had such integrity."
– Nancy Lopez, LPGA Tour and World Golf Hall of Fame member
"After WWII, Patty really helped women to recognize that they could go to the club and play golf, too. She encouraged many women to get out of the house and onto the course and to take golf instruction. She was instrumental in establishing the 'Teaching' division of the LPGA. Patty was very generous and had a great sense of humor; she was nine years older than me so she always joked that she was nine holes ahead of me! Another thing I remember is we were always looking for the early morning church services so we could go to mass before we teed off."
–Shirley Spork, LPGA Founder
Click here to read more quotes (from a story posted on GolfWire) from several LPGA players who were influenced by Patty Berg