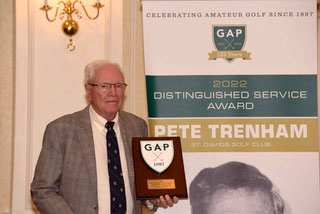 Peter Trenham, a Golf Heritage Society member for many years, was honored on Oct. 26, 2022, by the Golf Association of Philadelphia with its Distinguished Service Award. This award is bestowed upon individuals who have exemplified the spirit of the game of golf at its highest level and who have made a substantial contribution to the game locally, nationally or internationally. 
Trenham's service to the game has been significant and varied, as an excellent player, a distinguished club professional and as a historian of note. When he was introduced at the dinner where he was honored, his friend Chris Kallmeyer noted that "Pete has excelled in virtually every golf-related discipline over the course of a lifetime [and] more than anything else…is a consummate professional, a complete gentleman and an ambassador of the game."
He worked as an assistant professional at Philadelphia Country Club for four years and then served as the PGA head golf professional at St. Davids Golf Club for nearly 30 years.
Trenham served on every committee of the Philadelphia PGA Section and in 1987 became its 27th president, serving for two years in that prestigious role.  He has won numerous honors and awards, and was one of the original class of inductees into the Section's Hall of Fame in 1992.
Trenham is also a respected golf historian; his writing about the game has earned him considerable acclaim. In addition to serving as the Philadelphia PGA Section historian, he developed a website — www.trenhamgolfhistory.org — that chronicles the Section's history and other notable golf events in the Philadelphia area.
The Golf Association of Philadelphia has some significant history of its own. Founded in 1897, it is the oldest regional or state golf association in the United States. GAP's 330 member clubs and 100,000 individual members are spread across four states: Pennsylvania, Delaware, New Jersey and Maryland.