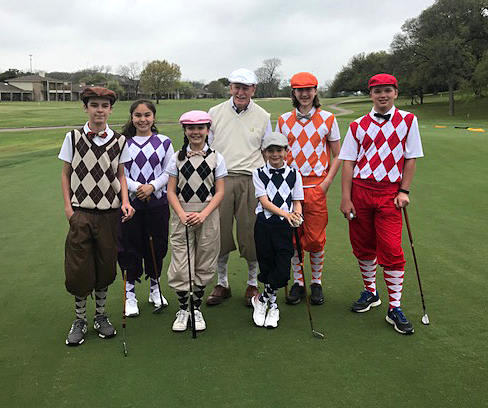 LEBANON, Ohio (March 11, 2020) – The inaugural Texas First Tee Hickory Championship, to be hosted by the Hickory Golf Association of Texas (HGAT) in partnership with the Golf Heritage Society (GHS) as part of this year's three-day Onion Creek Hickory Classic, will be played March 27, 2020, at Onion Creek Club, in Austin, Texas. Each of seven First Tee chapters will send four junior golfers to compete in this first-ever junior hickory tournament in Texas.
"The youngsters playing in this event will have the opportunity to experience how golf was played 100 years ago," said Dr. Bern Bernacki, president of the GHS. "Golf's history comes alive when young people learn about it first-hand, which is part of the Golf Heritage Society's mission."
The tournament director is Pete League and the tournament chair is Michael Sloan, both Board members of the HGAT and the GHS. They are excited about the event and plan for it to continue for many years to come.
The First Tee chapters that will be represented are from Austin, Fort Worth, San Antonio, Houston, Tyler, Piney Woods and El Paso. The participants, boys and girls ranging in age from 13 to 18, will have achieved "birdie" level or higher in playing proficiency, according to League. They will play in a team scramble format.
"Several GHS members have lent us hickory-shafted clubs for the First Tee kids to use," said League. "We will present the Texas Cup to the winning team, who will bring it back next year."
The antique trophy, made in 1910, is a silver inlay bronze cup on a wooden pedestal, with engraving plates, that League found at a GHS golf collectibles trade show in Cleveland.
Following the competition, First Tee players will attend the main tournament banquet that evening, which will feature renowned sportscaster Verne Lundquist Jr. as guest speaker.
The GHS looks forward to this statewide event and its leaders hope it will inspire similar collaboration with The First Tee elsewhere.
"We hope it will be the first of many such events nationwide," Bernacki said, "as a way to share golf's rich history with generations to come."
About the Golf Heritage Society
The Golf Heritage Society (GolfHeritage.org) celebrates its 50th anniversary in 2020. This global non-profit organization embraces all parts of the greater golf community. Its members include golfers of every playing ability, golf artists, historians and writers, hickory golf devotees and golf course designers. Annual GHS membership dues are $50. Members are encouraged to "Make It a Foursome" by inviting three additional golf enthusiasts to join.
For information or to join the GHS, see GolfHeritage.org or contact Pete Georgiady, executive director, at 567-303-5584 or pgeorgiady@golfheritage.org.