For Immediate Release
Media Contact:
Sally J. Sportsman
407-248-1144
sjsport@earthlink.net
LEBANON, Ohio (August 26, 2020) – The Golf Heritage Society (GolfHeritage.org), a nonprofit organization celebrating its 50th anniversary this year, announces a commemorative edition of The Golf, the Society's members-only journal. The special edition will include a supplement celebrating the 90th anniversary of Bobby Jones's 1930 Grand Slam, written by world-renowned Jones expert Sidney Matthew.
"We are pleased to offer this unique edition of The Golf, the first of its kind in GHS history," said Dr. Bern Bernacki, president of the Society. "It certainly will be a keepsake."
Jones completed his conquest of the "Impregnable Quadrilateral" on September 27, 1930, by winning the U.S. Amateur at Merion Cricket Club (now Merion Golf Club), in Ardmore, Pa. The 16-page supplement will include historic photos and highlights from each leg of the Grand Slam. No other golfer has won all four majors in the same calendar year.
"Bobby Jones's first USGA event was the 1916 US Amateur at Merion and his last was at Merion when he completed the Grand Slam in 1930," said John G. Capers, III, Merion Golf Club Historian. "Our club is honored to have played such an important role in Mr. Jones's pursuit of his 'Major' accomplishments."
The membership fee to join the GHS is just $25 for the remainder of 2020. New members who join by Sept. 30 will receive the commemorative Bobby Jones edition of The Golf.
For information or to join the Golf Heritage Society, visit GolfHeritage.org or contact Pete Georgiady, executive director, at 567-303-5584 or pgeorgiady@golfheritage.org.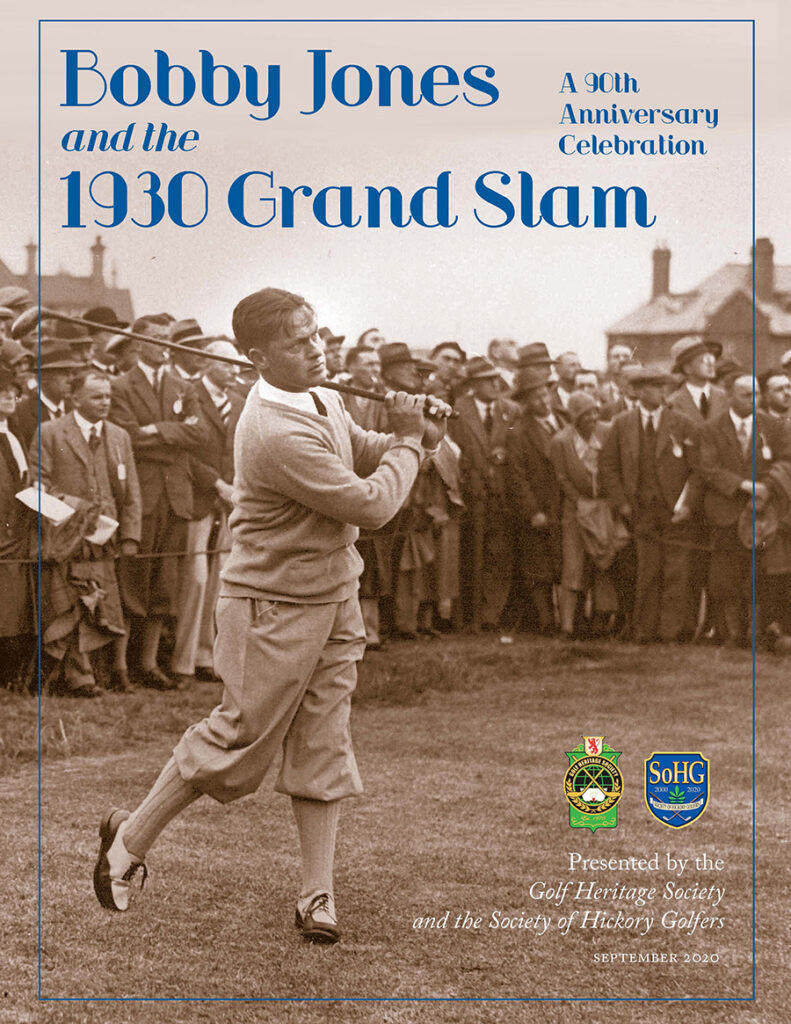 ---
About the Golf Heritage Society
The Golf Heritage Society is a global nonprofit organization that honors and preserves golf's history for future generations. It offers information about the game's players, courses, championships, history and equipment. Collecting and trading golf memorabilia and artifacts is an interest of many GHS members, who enjoy sharing their knowledge and expertise with others.
GHS membership benefits include:
• The Society's long-running quarterly journal, The Golf, with compelling features, articles and special guest contributors.
• A website updated regularly with members-only resources, including an archive of past issues of The Golf, information on golf collecting, links to fraternal golf history societies and other features.
• A monthly newsletter with interesting golf history features, GHS updates and member news.
• Camaraderie with fellow members at local, regional, national golf outings and trade shows that offer the opportunity to buy and sell golf collectibles.
• The opportunity for online connectivity with GHS member authorities in numerous aspects of golf history and collecting.
New members of the GHS are encouraged to "Make It a Foursome" by inviting three additional golf enthusiasts to join. Those who do receive a GHS-logo wristwatch.