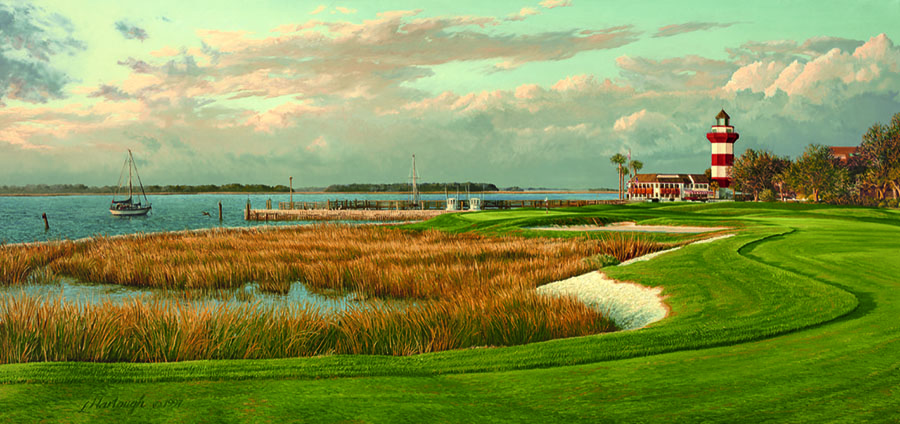 By Frank Cantrel Jr.
Today's painting inaugurates a new series of weekly postings of golf art — drawings, etchings, paintings, sculpture and other forms of art that are intended to entertain and inspire. This weekly series will include the works of past and present artists that portray important figures in golf's history as well as landscapes that capture the beauty of its courses. If you have any suggestions, please contact Frank Cantrel at frank.cantrel@verizon.net.
The 18th Hole, Harbour Town Golf Links by Linda Hartough
This week (June 17-21, 2020), the world's top golfers will be greeted by the familiar sight of the candy-striped lighthouse at the end of the 18th hole of the Harbour Town Golf Links on Hilton Head Island in South Carolina's Low Country.
The RBC Heritage will welcome the top five players in the world, led by No. 1-ranked Rory McIlroy. Harbour Town's 18th can be as treacherous as it is beautiful, with a fairway bordered by the salt marshes and waters of the scenic Calibogue Sound. Designed by Pete Dye, along with Jack Nicklaus, this course has received accolades from the American Society of Golf Course Architects and numerous other golf organizations.
Harbour Town has played host to the PGA Tour's Heritage Golf Classic since 1969, where none other than "The King," Arnold Palmer, won the inaugural event. Davis Love III, a 2017 World Golf Hall of Fame inductee, won this event a record five times.
Linda Hartough is a world-renowned golf-landscape artist whose golf landscape paintings are prized by collectors the world over. From 1990-2014 Hartough was commissioned by the USGA to paint a U.S. Open series ilustrating the championship venues. Her British Open Championship series was executed from 1990 to 1999.
Hartough, a longtime member of the Golf Heritage Society, has been honored with the Golf Digest Lifetime Achievement Award. She is a Founding Trustee of the Academy of Golf Art and a 2017 inductee into the Lowcountry Golf Hall of Fame.  Visit Linda's website: www.hartough.com
For information about the RBC Heritage, visit https://rbcheritage.com. Like the GHS, it is celebrating its 50th anniversary.