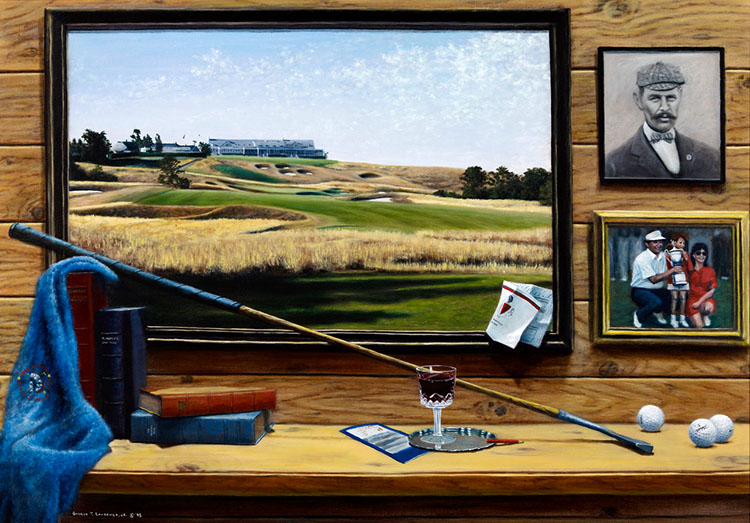 Centennial Reflections, by George Lawrence
By Frank Cantrel Jr.
This oil-on-linen painting, Centennial Reflections, was conceptualized and completed just before the 1995 U.S. Open at Shinnecock Hills Golf Club, the venue for the 100th anniversary of the founding of the United States Golf Association. The painting portrays Shinnecock Hills' 16th hole. Shinnecock was the site of the second U.S. Open in 1896.  The inaugural event was played at Newport Country Club in 1895 and was won by Horace Rawlins. James Foulis won the championship at Shinnecock and Rawlins finished as runner-up.  
Each element of this painting has historical significance. For example, Foulis is depicted in the image of a framed black and white photo in the upper right of the painting. The 1986 winner at Shinnecock Hills, Raymond Floyd, is presented in the gold frame with his family. The golf balls symbolize the three U.S. Opens hosted by the club to that point. It has hosted two more since, for a total of five.
The artist, George Lawrence, is a fellow GHS member and the president of the Academy of Golf Art.  Interested in drawing from an early age, at around 10 years old he was introduced to oil painting and golf but did not seriously put them together until the mid-1980s when his golf club asked him to do an oil for the upcoming centennial celebrations. The success of his artwork led to many commissions over the next three decades and his work can be found in many institutional and private collections.  Learn more about Lawrence and his work at https://www.academyofgolfart.org/artist/george-t-lawrence-jr-artist/