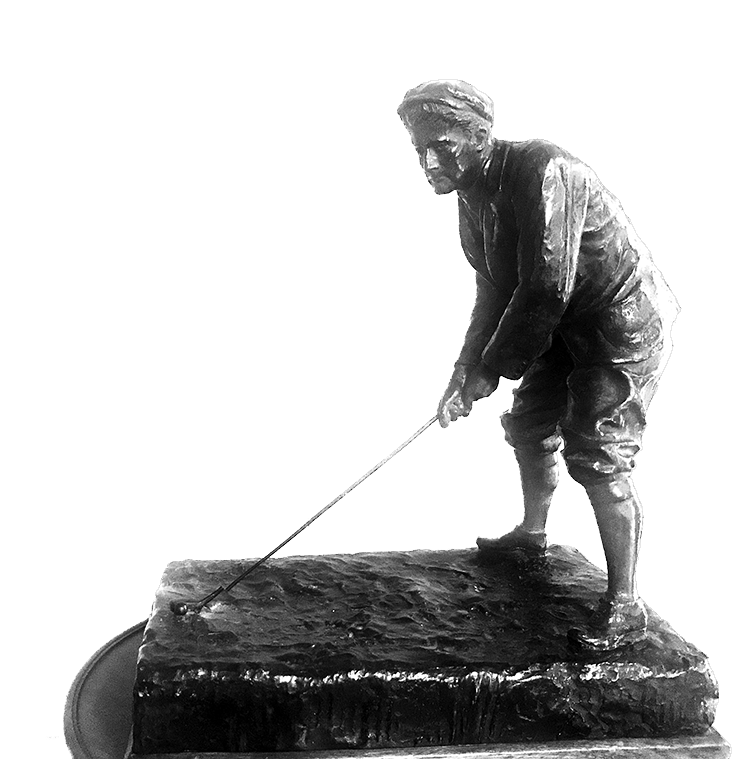 H. H. Hilton 1900 1901 – by John Cassidy
By Frank Cantrel Jr.
Harold Hilton (1869-1942) was an early English golf star who won the British Open twice, the British Amateur four times and the U.S. Amateur. When he won The Open Championship at Muirfield in 1892, he became only the second amateur to do so. He won it again in 1897 at his home club, Royal Liverpool Golf Club (Hoylake). The only other amateurs who have won the Open Championship are John Ball (1890) and Bobby Jones (1926, 1927, and 1930).
When Hilton won both the British Amateur and the U.S. Amateur in 1911, he became the first Englishman to win the American championship and the only English player to win both in the same year. His win at the 1911 U.S. Amateur at the Apawamis Club in Rye, N.Y., came as an unwelcome development to the American sporting crowd. But as Herbert Warren Wind reflected in The Story of American Golf, "Hilton's victory proved to be a blessing in disguise for American golfers." It inspired a new generation of golfing talent in the States, including Bobby Jones.
After retiring from competitive golf in 1913, Hilton became a golf writer. He served as editor of Golf Monthly and Golf Illustrated and authored a couple of books on the game. He was inducted into the World Golf Hall of Fame in 1978. Hilton passed away in 1942 at age 73 in Gloucestershire, England.
The Hilton bronze, from the John Fischer III collection, stands 14.25 inches tall. It was sculpted by John Cassidy (1860-1939), an Irish-born artist who lived in Manchester, England. Cassidy specialized in producing busts of prominent individuals and after World War I, he was commissioned to make several war memorials.