dr. mike hurdzan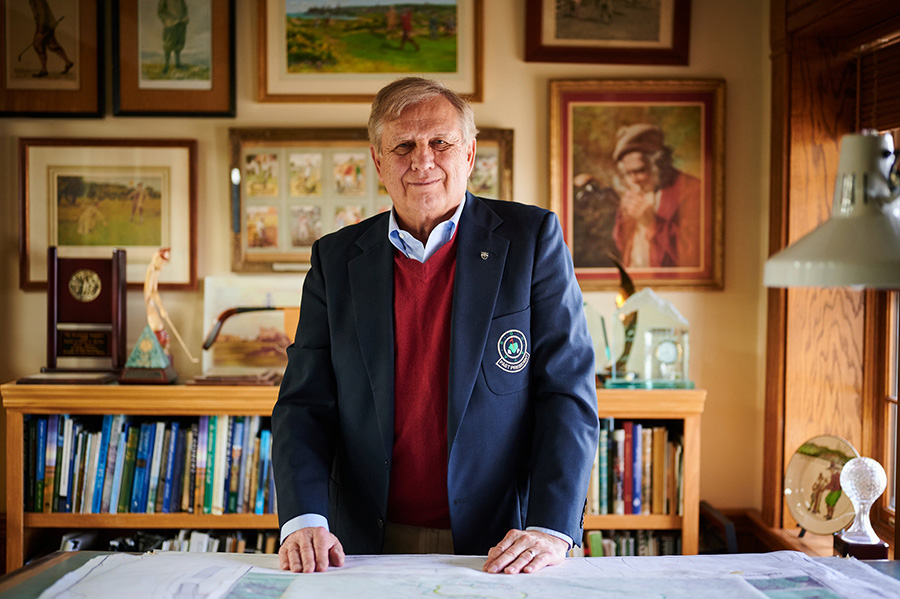 I learn so much from every [GHS] member…[g]olf collectors are the true preservers of golf's history [and] help me enjoy the game even when I am not playing. They are the cool kids of golf, in my opinion.

Dr. Michael Hurdzan
By Sally J. Sportsman
December 2020
Introduction
Dr. Michael Hurdzan – esteemed golf course architect and author of several books on design – is leaving an indelible mark on the game. 
"The game is old, but golf course design is comparatively young," says Hurdzan, ASCGA, and a GHS member since 1972. He discovered this insight through what has become a lifetime of distinguished work in the field.
Growing up, Hurdzan found himself well outside the gates of the local country club.
Seven decades later, he became only the fifth person in golf to achieve the non-playing "Grand Slam" as recipient of the highest honor from the golf course architecture industry's "Big 3": the Golf Course Superintendents Association of America, the American Society of Golf Course Architects and the Golf Course Builders Association of America. Today, there are seven on that distinguished list: Arnold Palmer, Jack Nicklaus, Byron Nelson, Robert Trent Jones Sr., Rees Jones, Pete Dye and Hurdzan.
Among many examples of his work that have made a lasting imprint is Erin Hills, an original design of Hurdzan's with then-business partner Dana Fry and Golf Digest Architectural Editor Ron Whitten, which in 10 years evolved from a "$50-green fee public course in rural Wisconsin" to the venue that hosted the 2017 U.S. Open.
Now, over 400 projects bearing the Hurdzan name are located on five continents, including a number of "Top 100" North American designs. Known for environmentally-sensitive and sustainable design, he created the first Environmental Demonstration Golf Course in the U.S. (Widow's Walk, in Massachusetts) and the first Environmental Education Golf Course (Farmlinks, in Alabama).
Today, Hurdzan continues to share his unparalleled experience with a hand-selected suite of clients who wish to tastefully and pragmatically re-project the principles of "Golden Age Architecture" across select commissions east of the Mississippi.
And as an early GHS member, he exemplifies a proud legacy of dedication to golf's history.
Note: Some of this material is from Hurdzan's website.
Where were you born, and where did you spend your childhood?
I was born in the coal country near Wheeling, W.Va., on Sept. 11, 1943, right in the middle of World War II. Like many families that were stressed during that period, I lived part of the time with my parents, Mike and Maryann, and part with my grandparents, but always in that Ohio River Valley area. In the late 1940s, my family moved to Columbus, Ohio, and that has been my home except for my time in graduate school and the Army, which was 1966 to 1973.     
How were you first introduced to golf? When and why did it become important to you? 
My dad was an accomplished golfer who turned pro after the war but couldn't make enough money playing, so he got a factory job (tool and die maker). He kept his card so he could teach at a small 9-hole golf course called Beacon Light, on Columbus's far Westside. That course was owned by Jack Kidwell's family, and as I grew from caddy to greenkeeper, Jack became my boss and mentor, and much later my business partner. Jack was a Class "A" PGA Pro, GCSAA Superintendent and golf course designer who later became the president of ASGCA. Jack started taking me with him to job sites when I was 13, and so at a young age I knew I wanted a life in golf, especially golf course design. I loved everything about golf.
Who are a few other golf course designers of years past   that you admire, and why? How did they influence you?
Because I am so interested in the history of golf course  design, there are several architects who have influenced my thinking, starting with Robert Hunter and George Thomas when I was given their books over 50 years ago. Then, as I became acquainted with H.S. Colt's work, I found that had an influence on me, just as it did on Dr. Alister Mackenzie. Donald Ross left so many plans that I learned from studying those, as well as drawings from Wayne Styles and John Van Kleek, and from William Flynn and William Langford. Lastly, like most modern designers, I was in awe of Pete and Alice Dye's willingness to push the boundaries and make architecture into art. 
What is your educational background?
In 1961, I was in the first Turfgrass Management class at The Ohio State University, where in 1966 I got my bachelor of science in agronomy, as well as being commissioned a second lieutenant in the U.S. Army Chemical Corps. I got a deferment for graduate school and entered the University of Vermont for my masters of science in plant and soil science and my PhD in plant physiology. Then after active duty, a succession of Army schools and the end of the Vietnam War, I was back working with Jack in 1973 while continuing my military obligation in the Reserves. In 1976, I entered the Landscape Architecture program at OSU, but never  completed that degree. Since I consider myself a lifelong learner, I still take classes online on all sorts of topics.
What are some highlights of your professional career and some of your philanthropic interests? 
I have been blessed to work in a profession for over 50 years that golfers dream about. Our firm has worked on over 400 projects on five continents and made an untold number of dear friends along the way. Each project was and is special, but most recognizable are Erin Hills, Calusa Pines, Desert Willow, Devil's Pulpit and Paintbrush, and our recent remodel work at London Hunt and Ottawa Hunt, in Ontario, Canada. 
Philanthropically I try to support two turfgrass scholarship funds, one in Jack Kidwell's name and one in my name, as well as a couple of Special Forces funds for family support programs. (I retired as a Colonel in the Special Forces Branch.)
What has the game meant to you through the years?
Golf has given me a very full and happy life. The opportunities, successes, friends and memories are matchless – and I can continue to pursue them as long as my health permits.
What is one of your favorite golf memories?
Playing innumerable rounds with my dad, mom and son, Chris, are my most priceless memories, but playing golf with Jack Kidwell at the Old Course at St Andrews with my hickories, and shooting 81, is a close second.
How did you learn about the GHS and when did you join?
I started golf collecting on Christmas Day 1968, when I was given Hunter's and Thomas's books on golf course architecture. I then had modest success in old book stores and yard sales, but it was when I met Bob Kuntz in the early 1970s that my collecting world exploded. He and Joe (Murdoch) had just formed the GCS and I joined shortly thereafter, which is why my number is 105. I blame Bob for what my collection is today – bless his heart.
What is an aspect of golf history that you find fascinating?
There are so many, but if I had to single one out it would be anything to do with golf course architecture. The game is old but golf course design is comparatively young so there is lots yet to learn and discover, and in the past 10-20 years there has been lots of new, rich information come to light about the early practitioners and their work.  
What kinds of golf artifacts and collectibles interest you?
Unfortunately everything, as anyone who has seen my collection knows. If I had to start over I would limit myself to golf course architecture-related items, but that train left a long time ago and I wasn't on it. I still favor paper things like books, drawings, ephemera, pictures, correspondence, newspapers, etc., because they are especially rich in information and insight.
Why do you enjoy being a GHS member?
I learn so much from every member, for they are all experts in something golf and they all are willing to share their knowledge. Golf collectors are the true preservers of golf's history in significant ways that all contribute to the bigger picture. Golf collectors help me enjoy the game even when I am not playing. They are the cool kids of golf, in my opinion.