Linda Hartough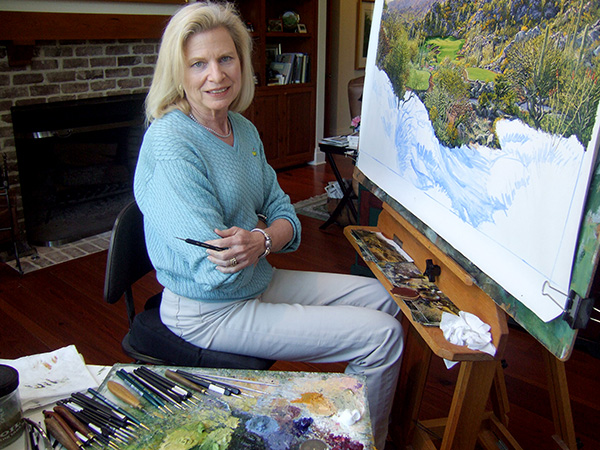 By Sally J. Sportsman
January 2021
Countless golf art lovers admire the work of Linda Hartough, world-renowned golf landscape painter. An artist since childhood, she painted portraits, horses and landscapes before making her imprint in golf.
Hartough has painted many iconic golf courses, with an attention to detail that invites the viewer to imagine walking right into the scene. She imbues her paintings with admiration for the scenery's natural beauty and respect for the game's history and tradition.
Hartough's work is displayed in the permanent collections of such legendary clubs as Augusta National, Laurel Valley, Pinehurst and Pine Valley; in the personal collections of such golf notables as Jack Nicklaus, Raymond Floyd and Rees Jones; and in the collections of the USGA Museum, in Far Hills, N.J., and the Morris Museum of Art, in Augusta, Ga.
Hartough, a 2017 inductee into the Low Country Golf Hall of Fame, has been honored with the Golf Digest Lifetime Achievement Award. She is a Founding Trustee of the Academy of Golf Art, a professional society of golf artists established in 2004 to create an awareness and appreciation of golf art as a valuable segment of fine art.
Accolades aside, Hartough's art evinces a yearning to play those magnificent holes. Owning a Hartough work is the next best thing to being there. To view Hartough's art, see hartough.com.
Where were you born, and where did you spend your childhood?
I was born in Southern New Jersey, where my chemical engineer father worked for various chemical companies. By age five we moved to Wilmington, Delaware, and then Louisville, Kentucky.
What is your educational background?
After graduating from Atherton High School, I attended the University of Louisville on a fine art scholarship for three years, where I was awarded a scholarship to the Skowhegan School of Painting and Sculpture during the summer of 1967. From there I was awarded a scholarship to the School of the Art Institute of Chicago, where I received a BFA in 1970.
How were you first introduced to golf? When and why did it become important to you?
My father had always been an avid golfer as long as I can remember. When we lived in Louisville, my father had a family membership at Big Spring Country Club. It was there that at 13, due to the insistence of my father, I was introduced to golf with lessons and my first and only nine holes – I was much more involved in art and horseback riding at that time. It wasn't until 25 years later (1984) when I stepped onto the Augusta National Golf Club course to paint the 13th hole for the club pros that I unknowingly started on my golf art career. From then on golf became the focus of my life.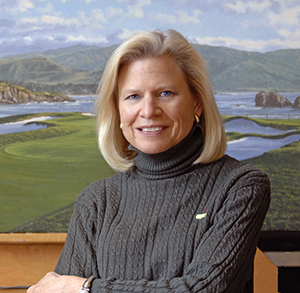 What are some highlights of your professional career, and what are some of your philanthropic interests?
Before I became a golf landscape artist, I painted a variety of subjects including landscape, equine genre, portraits and old buildings. When I started painting for Augusta National, it led to many other golf commissions, and by 1989, with a meeting with golf antique dealer Bob Pringle of Old Troon Sporting Antiques, I was fully committed to golf landscape. With Bob's help I was commissioned by the R&A to paint a series of the Open Championship courses, which started in 1990 with the Road Hole of the Old Course and went on until Carnoustie, the last in the rotation, in 1999. In 1990, I was also commissioned by the USGA to start painting a series of U.S. Open Championship courses, which I continued for 25 years. During that same time, I was painting many holes at Augusta National, as well.
Besides working with these three great Major Championships, other highlights have been: working with Jack Nicklaus on two ABC Television Golf Specials on famous golf holes, hosted by Jack Nicklaus; receiving Golf Digest's "Lifetime Achievement Award"; having a book of my paintings, Hallowed Ground, published by Greenwich Workshop in 1999; being a Founding Trustee of the Academy of Golf Art, a professional society of golf artists established in 2004; and in 2017 being honored as an inductee into the Low Country Golf Hall of Fame.
Throughout the 1990s I donated many prints to support the fundraising efforts of the South Carolina Junior Golf Association, established in 1990 to perpetuate the history and traditions of the ancient game of golf through its members, and with an active outreach to the youth of South Carolina. I continue to support their goals to this day. I have always felt introducing kids to the game is the best way I know to shape young lives. I have also donated prints to many other golf charity events around the country.
Which artists have you admired through the years? How has their work influenced your own painting
Studying the history of art has been a lifelong passion. So many artists have influenced me in countless ways: the Impressionists for color and texture, Degas for composition, Edward Hopper for use of light and form, Georgia O'Keeffe for her art and her amazing life, Andrew Wyeth for his detail and timeless feeling. I also admire the many early British and Scottish painters who painted golf as pure landscape. I would include Arthur Weaver, who painted many golf landscape scenes, as an influence as well.
What has the game meant to you through the years?
Golf has introduced me to the best group of people I could imagine. Because of the game's traditions, it attracts the best of us, I think. I have felt support and appreciation from the golf world all these years and cherish being a part of the tradition.
What is one of your favorite golf memories?
I would have to say one of the best memories was my first trip to Scotland in 1989, when Bob Pringle showed me the best of Scotland in a whirlwind driving tour starting in Troon that included visiting many old golf clubs, the beautiful Highlands mountains and lochs, with salmon fishing on the River Dee and coming back down to St Andrews, where I was left alone in a bed and breakfast on the Scores for a week to explore the Old Course and the town. It was a wonderful time spent getting to know the Old Course. When Bob came back to pick me up, he had arranged a midnight tour of the R&A because he was a member and knew the night watchman! A rare chance for a female in those days.
How did you learn about the GHS and when did you join?
I don't remember exactly how I learned about Golf Collectors, but I joined in 1999. I was all about golf and joined everything I could, like the National Golf Foundation, and I went to all the gatherings, like Golf Summits, Women in Golf Summits and the PGA Show every year – not to mention the Masters, U.S. Open and sometimes the Open Championship.
What is an aspect of golf history that you find fascinating?
I would have to say the history of golf art, which seems to be mostly in the U.K.
What kinds of golf artifacts and collectibles interest you?
I have a collection of golf books that I have acquired over the years, mostly from courses that I have painted or visited, some golf photography and art books and various other memorabilia from my golf travels and tournaments. I am interested in any golf art, old or new, and I love to look at the golf auctions to see all the things that people collect, especially anything from the Masters.
Why do you enjoy being a GHS member?
I feel connected with the history and traditions of the game, and love the new direction the Society has taken. I like to keep up with what's going on in golf, new and old, so I especially like The Golf publication. With so many golf magazines and journalists disappearing, it is all the more important to support the community of the game.