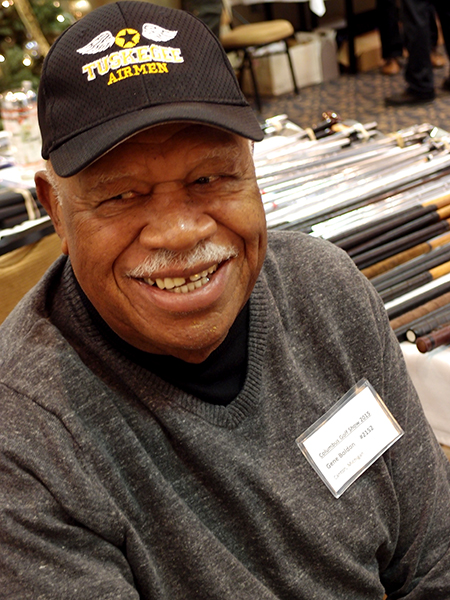 Eugene "Gene" Boldon, 93, passed away Friday, Sept. 4, 2020, from complications due to a congenital disease. Mr. Boldon was surrounded by his family.
The family will receive friends and guests for visitation Sunday, Sept. 13, from 9 a.m. – 9 p.m. at the James H. Cole Home for Funerals, Northwest Chapel, 16100 Schaefer Highway, Detroit, Mich., 48235.
In lieu of flowers, donations to Mr. Boldon's chosen charity may be made as follows: Tuskegee Airmen, Macon-Thomas Chapter, Scholarship Fund, 6036 Petros Drive, W. Bloomfield,  Mich., 48324.
In 2016, Mr. Boldon, Golf Heritage Society Member No. 2152, was honored with the Society's Founders Award for his years of active membership and significant contributions to the growth of the GHS and to golf collecting.
During his 30+ years in the GHS, Mr. Boldon, a resident of Canton, Mich., made contributions to the Society in the areas of leadership, participation, and recruitment. He served on the GHS board of directors and was a mainstay at Society events. He was the host for the 1994 Annual Meeting in Ypsilanti, Mich., and also the 2012 Ypsilanti annual meeting.
Mr. Boldon was well known to golfing personalities in Detroit and was responsible for representing the Society in Southern Michigan where he recruited many new members. He was proprietor of a shop called Golf Trends. At one time his golf collection was purported to contain around 17,000 clubs.
Mr. Boldon was very proud of his service with the famed Tuskegee Airmen and maintained a close connection to members of the Detroit Chapter in his later years.
He played basketball on several U.S. Air Force All-Star teams before playing for Wayne State University. After his military and college playing days he stayed highly active in many sports in his native Detroit area.
Mr. Boldon served as athletic coach for several schools, including Cass Tech, Pershing, Chadsey, and Murray-Wright high schools in Detroit and in 2015 he was inducted into the Detroit High School Hall of Fame. He was honored as Public School League Coach of the Year in 1968. Later he coached basketball and golf at Port Huron High and was athletic director.
At the university level he coached Oakland University men's basketball from 1968 to 1976, as well as the baseball and golf teams. He later coached woman's basketball at the University of Michigan-Dearborn and served as the school's athletic director. Mr. Boldon's wife, Gaynelle, was present at many GCS meetings.
Mr. Boldon is survived by his wife, Gaynelle, and several children and grandchildren.
Attached here is a December 2015 Bulletin feature about Mr. Boldon and his golf collection.