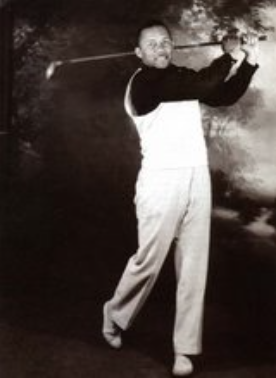 Celebrating Black Golfers – John Brooks Dendy
He had a startling talent with a golf club, did Mr. John Brooks Dendy. Born in 1913, the self-made golfer grew up in Asheville, N.C., and fell in love with the game while caddying at Asheville CC.
Doing what caddies do, the young man kept his eye out for discarded club heads. With a few promising heds in hand, he then whittled broom sticks to fit the heads and began to swing. By his early teens he had groomed a game that was hard to beat. Recognizing that talent, some of the club's members quietly encouraged him.
After high school, Dendy was headed to Paine College in Augusta, Ga., to play football. Those Asheville members, though, thought his golfing prowess deserved a chance to shine and extended the young man enough financial support to enter the United Golfer's Association's Southern Open, that year held at the Lincoln Golf and Country Club in Atlanta. He won, of course. Given the choice of a lovely trophy or $50, Dendy wasted no time in accepting the prize money and with that decision relinquished his amateur status to become a professional. He'd win the Southern Open again in 1934 and 1936.
Riding this wave of excitement and encouraged by his family, young Dendy, not yet 20, entered the 1932 United Golfer's Association – Negro National Open in Indian­apolis at Douglas Park GC, the only course open to black golfers. The course had begun as a six-hole experiment in 1926 with tomato cans as cups.
Like other young golfers starting out, the trip was an eye-opener for Dendy who was venturing farther from home than ever in his life. Still, he was at home on the golf course and handily, to the surprise of many, the unknown from Asheville whipped his competitors with shocking ease to earn the trophy and $100 prize money.
Turns out there was a pre-tournament "Calcutta" in which Dendy had been purchased for $400. That golf prognosticator won big and was not stingy with the winnings, awarding Dendy a $500 bonus – five times the winner's check! So much money was a new experience. Accounts say that Dendy slept fitfully on the way home, fearing that all eyes were on his money.
He would win the USGA National Open in 1936 and successfully defended in 1937.
While terrorizing his golf opponents in 1930, Dendy became the subject of a Ripley's Believe It Or Not feature during an exhibition round in Jacksonville, Fla., in 1933. After a travel delay, Dendy barely arrived in time, went straight for the first tee and without warming up, cut the dogleg with his drive on the 342-yard opening hole – and holed the shot for an opening 1. He played the next three holes 2-3-4, all of them birdies and finished the day with a score of 59. It was the 1-2-3-4, six-under par start, that got the attention of the folks at Ripley's.
The 30s might have been a period of good golf for Dendy, but it was the decade of the Great Depression. By 1940, his financial prospects from playing were few, so Dendy accepted a job as a locker room attendant at Asheville CC and later worked at Biltmore Forest CC where he served until he retired in 1980. Joe Louis, then heavyweight boxing champion, was a good friend and the two often partnered successfully in money matches in Chicago and across the country.
During his playing career, Dendy won 52 tournaments, including three National and three Southern Open Championships. A remarkable championship record.
In his later years, Dendy would play occasional rounds with his sons and enjoyed an annual visit to Augusta National for the Masters. He passed away in 1985.