The August, 1910 Golfers Magazine noted that "Otto G. Hackbarth, professional at the Westwood Country Club, St. Louis, has invented a new putter of peculiar design with which he has been doing remarkably accurate work on the greens. It is modeled after the center shafted idea and he claims this prevents the club from turning when the ball is struck, with the result that the ball rolls with an over spin, hugging the ground and going perfectly straight for the hole."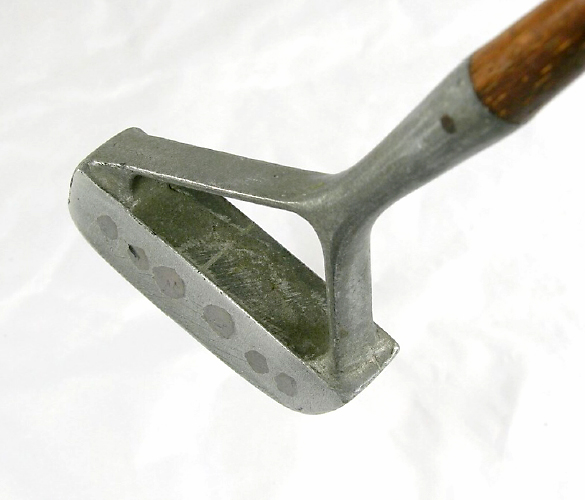 Hackbarth studied the game and knew the strong and weak points of clubs from his skill at club making. If there was a weak point in his game it was his putting. Otto designed a new style putter which he was convinced would improve his putting. He manufactured his new putter and it began to develop a following. In 1914, Otto received a United States patent for his putter which became known as the "Hackbarth Putter."
The putter had a bifurcated hosel with one prong attached to the toe and the other to the heel to limit rotation of the putter face. The head was the same on both sides so the putter could be used both right handed and left handed. The shaft was short because of the long hosel, and there was a strip of copper or lead inserted in the cast aluminum head to add some weight.
The Hackbarth Putter was well received, and several notable people used it, including Chick Evans, who won both the 1916 U.S. Open and the U.S. Amateur, baseball great Babe Ruth who was an avid golfer and putted left-handed, President Warren Harding and John D. Rockefeller.
With a strong following for the Hackbarth Putter, Otto was on his way for recognition of his design and some extra cash. The putter seemed to live up to its promises of keeping the club head square at impact. But it all came tumbling down. The USGA declared the Hackbarth Putter to be nonconforming under the Rules of Golf because of the split hosel. Sales ceased and today the Hackbarth Putter is only known to golf historians and collectors of golf memorabilia.