This article was written in 2017 by Sally J. Sportsman for SeniorGolfInsider.com, which is no longer published. The article won a Feature Writing Award from the International Network of Golf, a media-based networking organization. Sportsman is a long-time golf industry publicist and feature writer.
A hush settled over the room. The King was about to speak.
"The future of golf rests on your shoulders," Arnold Palmer told 16 collegians from the United States and Great Britain and Ireland. "Carry the mantle well."
It was July 9, 1997, at the opening dinner of the inaugural Palmer Cup (now called the Arnold Palmer Cup). There was a strong sense of history being made that day at the Bay Hill Club in Orlando, Fla.
Palmer's speech made a lasting impression on me and everyone else lucky enough to have heard it. Today, looking back at the completion of 20 Arnold Palmer Cups, it is clear the event has grown into a highly regarded component of the King's legacy.
Being selected for the Palmer Cup, an annual international collegiate event with a Ryder Cup style format, has become a significant goal for many college players. From 1997 through 2002, the United States played Great Britain and Ireland, rather than all of Europe, as it stands today. Originally contested between two 8-man teams, the tournament expanded and now consists of two 10-man teams.
The Golf Coaches Association of America initially approached Palmer with the idea, and the competition is now conducted by the GCAA and the Palmer organization.
At lunch one day in 1996 at the Savoy Grill, a historic restaurant in Kansas City, Missouri (said to have been President Harry Truman's favorite dining spot), conversation focused on how the event, then nameless, could take shape and what it could mean for collegiate golf. When the plan was presented by the GCAA to Palmer and his executive team for consideration, with the suggestion that it be called the Palmer Cup, it was not known that Palmer had once insisted that no golf event would carry his name.
In this case he made an exception, stating in his written acceptance, "My years at Wake Forest are among the most cherished of my life, and I am truly proud to have a collegiate event as prestigious as this carry my name."
And so the Arnold Palmer Cup was born.
To the competitors and their families at the inaugural Palmer Cup dinner, Palmer delivered a moving address that resonates to this day. The scene is as clear to me now as it was then. Palmer's voice was strong, his gaze unwavering, his message one for the ages.
"I had long thought that an international competition such as this would enrich the lives of young men through the universal bond of the great game of golf," Palmer said.
He explained that the Palmer Cup would be a showcase for sportsmanship and excellence. He reminded the first-ever competitors that they had a responsibility — not only for the event, but for golf itself. Someday many of them would be among the best golfers in the world, and the Palmer Cup, building on their individual collegiate playing experiences, would serve as a springboard for their success. How you conduct yourselves now, Palmer told them, reflects the kind of men you will become.
I observed the players absorbing Palmer's theme and philosophy. They sensed they were part of something extraordinarily special. Their parents fought tears as they contemplated the significance of what they were witnessing. I, too, was mesmerized as I internalized the power of the moment and its importance for the future.
Selection to an Arnold Palmer Cup team epitomizes exceptional individual talent, character and accomplishment for a college golfer.
Great venues have hosted the Arnold Palmer Cup through the years, alternating annually between U.S. and European sites. I was honored to have assisted during the first four years of the competition. After Bay Hill, the event was played in 1998 on the Old and New Courses at St Andrews, Scotland; in 1999 at The Honors Course, in Chattanooga, Tenn.; and in 2000 at Royal Liverpool Golf Club, in Hoylake, England. Among the young U.S. players I had the pleasure to meet and get to know then were Charles Howell III, Hank Kuehne, Matt Kuchar, Jonathan Byrd and Lucas Glover; and, on the GB&I team, Rory Sabbatini, Luke Donald and Graeme McDowell. I recall admiring these collegians and their teammates, and imagining their bright futures in golf and beyond.
In subsequent years, the matches have been contested at such historic, prestigious venues as Baltusrol, Doonbeg, Cassique, Ballybunion, Whistling Straits-The Irish, Prestwick and others.
As the Arnold Palmer Cup has evolved, its essence has endured. The King's message lives on.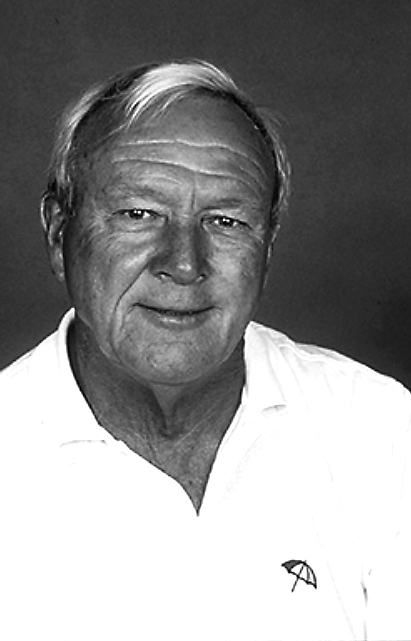 On a wall in my writing room hangs a flag from the inaugural Palmer Cup, which Palmer signed for me at the start of the 1997 competition. His renowned signature, clear and distinguished, never changed through the years. The flag occupies a place of honor on my wall, and now in my reveries, too.
A few years ago, I telephoned Palmer's executive team at Bay Hill Club to say that I had some things from the early years of the Arnold Palmer Cup. I wanted to donate them for display or safekeeping. After delivering my items to Palmer's staff members in the Bay Hill office, I knew they had found their rightful home.
Then, in November of 2014, a month or so before Palmer fell and dislocated his shoulder at a Father-Son tournament, I came across some additional memorabilia from my four years with the Arnold Palmer Cup, tucked away in my files from two decades ago. The photos, flags and program books filled me with nostalgia. I knew what I wanted to do. I called a member of Palmer's executive staff to ask if I could please deliver these special things to the King personally. Yes, I was told. A day and time were set for me to visit Bay Hill with my treasures.
Grateful for my opportunity, I decided to use my brief time with the King to tell him some stories from the early days of the Arnold Palmer Cup. Ushered into his Bay Hill office, I found Palmer seated behind his expansive desk. He greeted me with a smile and his famous warm-yet-firm handshake, and settled in to listen to my tales about the original event and the three subsequent ones in which I had taken part. His two executives listened, too. As I shared some of my memories, Palmer laughed and asked a few questions about the players and their histories. As I responded, I spread the items on his desk and asked him if he'd like to sign a remaining flag or two for his collection. His eyes filled with pride as he took pen in hand.
Last year, Palmer and the GCAA announced that beginning in 2018, the Arnold Palmer Cup will expand to include both men and women collegiate golfers. The event will continue to be contested in a match play format with team, mixed team and singles sessions. Each team will consist of 12 men and 12 women players whose combined efforts will contribute to one team score.
Many prominent golfers today are alumni of the Arnold Palmer Cup. Their ranks will continue to grow, thanks to Palmer's foresight and vision as well as the dedication of the GCAA.
Arnold Palmer represented the best in all of us, possessing qualities we admire and to which we aspire. My own memories, with the King at their core, are undiminished with time. And now, with Palmer's passing, they reverberate even more.