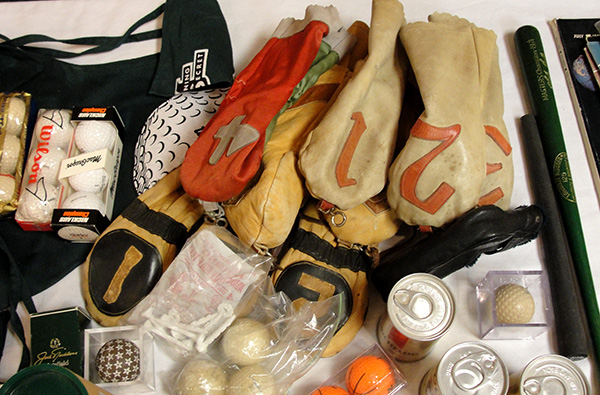 The following article is reprinted here courtesy of GolfBusiness.com.
Resorts Display Golf Memorabilia to Enhance Guest Experience
By Sally J. Sportsman
Uniting golfers all over the world and throughout centuries is the desire to unlock the game's mystery. Achieving a flawless swing and precise putting, playing renowned courses — these are what golfers' dreams are made of.
There is more to the puzzle, though. A vital and vibrant part of the game's eternal mystery is its history. What qualities distinguished the great players through the years? How did golf survive and thrive through the vagaries of world events and the passage of time? How is the game today connected to all that came before?
Some resort destinations have discovered that putting some of that history on display for guests to view and enjoy is a strategy that reaps rewards, engaging visitors' interest and encouraging them to plan future visits.
The Greenbrier Resort in White Sulphur Springs, West Virginia, is one such resort. It is a treasure trove of Sam Snead artifacts.
"Sam Snead was the first Masters winner to receive a green jacket," says Robert Harris, vice president of golf for The Greenbrier Resort, "and his jacket is right here. As you walk into the clubhouse, it's in a glass case on your left."
Greenbrier guests inevitably learn about Snead while visiting, Harris says. Snead, a Virginian, whose record of 82 PGA Tour wins still stands, first came to The Greenbrier in 1936, and his name has been linked to the resort ever since. He was the first Golf Pro Emeritus at The Greenbrier from 1993 to 2002. An extensive collection of his memorabilia is on display within the resort at The Golf Club and its two restaurants: Slammin' Sammy's and Sam Snead's at The Golf Club.
"When Sam was alive," says Harris, who has been at The Greenbrier since 1991, "he would walk around the building and tell the story behind every picture. Now, all summer long I hear dads in their 40s asking their middle school children, 'Do you know who Tiger Woods is?
"'Well, he's second on the all-time winner list. Sam Snead is number one.'"
The memorabilia collection, which is rotated and changed periodically, is one reason for the high level of repeat visitors at The Greenbrier, according to Harris.
Dr. Tony Parker, former official historian of the World Golf Hall of Fame and the University of St Andrews (Scotland), notes that what the inclusion of memorabilia does for a resort is twofold.
"It brings a relationship between the guest and the history of the game," Parker says, "and it embeds the destination as part of the game's history, making the resort experience more memorable and creating added value."
Most golfers know that history is deeply embedded at Pinehurst Resort, in Pinehurst, North Carolina. Founded in 1895 by James Walker Tufts, Pinehurst saw its first golf course laid out in 1897-98, with its first championship held in 1901. The Tufts Archives at Given Memorial Library is not officially part of the resort, yet is a powerful draw to visitors. Given Tufts is privately funded and is open to the public as well as resort guests. There is no entrance fee.
"We are the Pinehurst history museum," says Audrey Moriarty, executive director of Given Tufts. "Everyone, from the concierge to the starters on the golf courses, tells people to be sure to visit the archives."
Among the memorabilia on view are over 200 original Donald Ross drawings of his golf course designs, including hand drawings, sketches and layouts. Visitors can sit and study notebooks full of reproduced drawings. (The originals are kept in the dark, to avoid light damage.)
"The reaction of guests is that they are amazed at what they see," says Moriarty, who has been at Given Tufts since 2002.
Players often wander into the museum in their golf clothes at the end of a round, removing their golf cleats as they enter. Some hear about it from other golfers or read about it in advance of their visit. Many prominent people have spent time among the archives, including golf course designers Kris Spence and Gil Hanse, actor Jamie Farr, author James Patterson and former U.S. Senator Alan Simpson.
"We have it all," Moriarty says. "People are rarely satisfied with one visit."
At Arnold Palmer's Bay Hill Club and Lodge, in Orlando, Florida, Palmer's legacy is preserved partly by the memorabilia on display. From photos to trophies to guitars, every piece tells a story. Items are arranged throughout the main clubhouse, the hallways, restaurants and lodge.
"Most of the photos were selected by Winnie Palmer and Amy Saunders," says Cori Britt, vice president of Arnold Palmer Enterprises Inc.
Resort guests and club members are aided in deciphering the history and significance of what they see, according to Don Emery, president and general manager of Arnold Palmer's Bay Hill Club & Lodge.
"Members of our staff are trained to enter into a dialogue as to why an item is important and why it is hanging on the wall," Emery says. "Instead of a museum style with plaques and such, the interactive guest experience is a big part of it and is what makes Bay Hill special."
Bay Hill's human resources department, whose members learned of Palmer's history by having experienced it, does staff training.
"We are blessed that we have a lot of longtime staff," says Emery. "Not only do they see the memorabilia daily, but they have lived it.
"They enjoy training the newer staff. They truly love telling the story."
All staff members are well versed, including the bellmen, clerks, restaurant and bar staff and golf staff. Some have personal stories to tell about their interactions with Palmer.
"It's very organic," Emery says. "Guests and members are interested in what is behind the photos, making their experience more meaningful.
"Our knowledgeable staff is always mentioned as a highlight of people's visits, and we are very proud of that."
History is also on prominent display at French Lick Resort, in French Lick, Indiana, including original drawings of the Donald Ross Course and the Pete Dye Course. The Legends Hall of Fame is a permanent exhibit just off the lobby of the West Baden Springs Hotel at the resort, which is the home of the Senior LPGA Championship.
"The entire resort is filled with golf memorabilia," says Dave Harner, director of golf operations at French Lick Resort. "We have wooden golf clubs with our logo from the early days, old trophies and even publications from the 1920s."
French Lick Resort considers history such an integral part of the guest experience that there is a historian/archivist on staff with the events department, to ensure that history is preserved and passed on to future generations.
"People enjoy our historic displays," Harner says. "It's an important part of what visitors experience here."
Golf memorabilia displays at resorts serve as built-in invitations to guests to encourage them to return, to see what's new in golf history and, by virtue of their very interest, help preserve golf's traditions.

Sally J. Sportsman is an Orlando, Florida-based freelance golf writer.
Golf Business Magazine
official publication of the National Golf Course Owners Association
January 2019 issue
GOLFBUSINESS.COM